Presidential Memories from ASI Dallas
Friday February 7, 2014 | Filed under: ASI Shows, Community, Media Coverage, News About ASI
I'm standing in the wings at the Dallas convention center with President George W. Bush, seconds before our interview in front of a packed house of 1,200. The president turns to me, leans in close and says, "This is important to remember. Have fun!"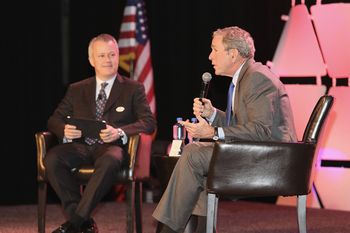 With that, we were off and running. For over an hour, the president answered every question I had – including what he was thinking right after the planes struck the twin towers on 9/11, when he was in an elementary school classroom.
He got a lot of grief for not leaving immediately, but as he explained to our audience – which was so riveted you could have heard a pin drop – when he got the news, a little girl was reading out loud. He was angry, and his mind was racing, but he couldn't show it because he knew it wouldn't be helpful to the American people. As the little girl read on, he realized he was now a war-time president – that he had to protect her and protect America.
Of the many on-the-spot decisions he had to make in the harrowing days, weeks and months after 9/11, the president said, "History will ultimately judge whether I made the right decisions or not."  Whether you support Bush's politics or not, being in the same room with any president is a once-in-a-lifetime experience.
The presentation took place on the last day of the ASI Show in Dallas, which ended Thursday after attracting over 500 suppliers (including 65 new to Dallas) and over 3,300 distributors from 43 states and seven countries. Despite crazy 20-degree weather and snow on the ground, it was a great show and the Bush presentation was definitely the highlight. (For more coverage, including blogs and videos, visit www.asicentral.com and the ASI Show Facebook page. Click here to read the press release. And click here for Fox news coverage of the show.)
Over the years, ASI has hosted many A-list keynote speakers, including President Bill Clinton, First Lady Laura Bush and Gen. Colin Powell. President Bush impressed me and I'd rank him right up there with Clinton. Bush was very charming, incredibly smart and extremely gracious, which shouldn't surprise anyone since Bush is one of a mere handful of men ever elected U.S. president.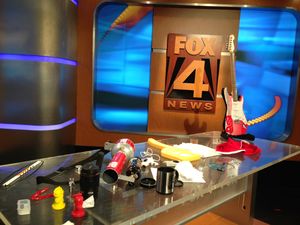 We talked before we went on and he asked a lot of questions about ASI and our industry. Once on stage, Bush thanked ASI's owners, the Cohn family, and said of Matthew Cohn, who followed his father Norman into ASI, "I love people who follow in their father's footsteps." And several times during the Q&A he looked right at me – and winked.
As you can see from the photos, President Bush still works out a lot and still carries himself like a president. He recognized our audience as great marketers and entrepreneurs and said he hopes the government supports small businesses like those represented in the promotional products industry.
President Bush also didn't shy away from any topic. When I asked if he'd always known he'd seek public office, and always wanted to be president, he confided that, if he'd known earlier, he would have taken his college years more seriously!  (His GPA and a youthful drinking are well-documented. He hasn't had alcohol for decades and told our audience he's also stopping smoking cigars.)
He also talked about the hobby he took up after leaving office: painting. This was a surprising choice because, as he said, he wasn't an art guy, he was a baseball guy. But he'd read a book by Winston Churchill that addressed taking up painting to smooth the transition from world leader to (almost) ordinary citizen. Today, Bush takes art lessons about once a week and paints nearly every day, largely because it's relaxing.
One of my favorite moments took place at a meet and greet with industry people, where he spoke to every single person in the room. When Bush learned one man was on active duty with the U.S. military, he personally handed him a medallion
"Thank you for your service," he said. I later learned he brings a bag of the medallions with him everywhere so they are always available as a way of thanking our military men and women for all they do to protect our nation.
To me, such gratitude is the true mark of a great leader – no matter the politics.