PR for Promos
Monday April 14, 2014 | Filed under: ASI Shows, Community, Media Coverage, Members, News About ASI
ASI scored some major PR for the industry recently, thanks to a national story that aired on the MSNBC Sunday morning program, Your Business, which exclusively covers small businesses and entrepreneurs. Host J.J. Ramberg and her crew spent hours at ASI's New York show interviewing exhibitors and the end result is a serious look at a fun industry and the proven power of promotional products.

You can check out the fact-packed MSNBC segment on ASI's press page by clicking here. You can also access it at on the show's webpage by clicking here. Don't forget to share the link on your social media pages – like Facebook and LinkedIn – and also internally among your own teams.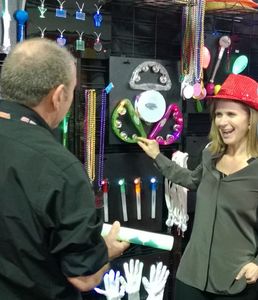 Overall, I think the MSNBC segment really captured some key points about advertising specialties while also relaying the energy and fun of what we all do every day. In the "Business War Chest" part of the program, host J.J. described the cool items she saw as "promos with a purpose" (which I love!) and said ad specialties "can't be beat."
Producer Dawn Stackhouse spent a total of about seven hours on the show floor over two days, interviewing exhibitors and learning all about the industry. Even though it looks easy once it makes it to air, it's unbelievable how much work goes into reporting a single 4-minute segment – and appearing on TV. I bet every exhibitor featured on the show has a newfound respect for on-air talent now that they've experienced the "bright lights" themselves.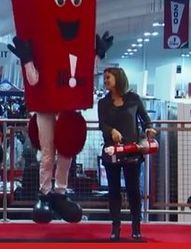 I'd like to offer my congrats to the companies selected for on-air interviews: Debco (asi/48885), Stuffed Tees (asi/79662), Personalized Gift Source (asi/50161) and Brighter Promotions (asi/42016). The MSNBC segment closed with host J.J. hanging out with the ASI Show mascot, Promo, and shooting off a tee shirt shot from a logoed air cannon supplied by Air Cannons Inc. (asi/33252).
My thanks go to everyone who helped during MSNBC's visit to ASI New York, especially exhibitors like Easy-Doks (asi/51511), Bloomin' Promotions (asi/40646), Interall Group (asi/63092), See-Sun (asi/88584), Eco-Centric Brands (asi/51443), S&K (asi/84325) and Idol Memory (asi/62222), who graciously gave their time to demo products for the camera, but who may not have made it to air or who appeared only briefly.
Considering that a 30-second commercial could cost a company upwards of $35,000 per spot, such free publicity is golden for any business, which is why we make it a priority at ASI.  We're continuously courting reporters across North America to gain media coverage showcasing entrepreneurs in our industry, explaining how to use promotional products in marketing campaigns and reinforcing the large return on investment that branded products provide.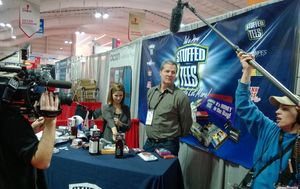 The most recent "get" is just one of literally dozens of TV segments ASI has arranged in recent years, including two others that aired on Fox News during ASI New York. Although I'm not crazy about the term "wacky products" and found the Good Day New York anchors a little silly, ASI's own Joe Haley did a great job representing the industry during a live television show (where anything can happen and it's very hard to control the messaging).
Click here to watch the Fox nightly news segment and click here to see Joe in action.
Check out the segments and let me know what you think by posting a comment or e-mailing me here. I'm also on Twitter and LinkedIn. Hopefully, you'll react as positively as Chris Seriale, of New World Group (asi/283161) who watched the filming in New York and told us: "I've been an ASI member for 20 years and this is so cool. It's great for the industry."