On the Road with C.J., Melinda and Andy
Monday July 7, 2014 | Filed under: Community, Members, News About ASI
When you think it's Friday though it's really Tuesday … when you've judged a dessert bake-off and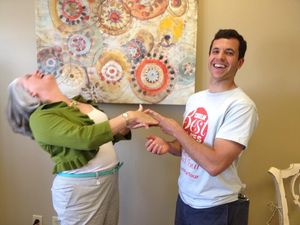 participated in a wine tasting … when you've stopped in your third time zone in a day … when you've talked to more enthusiastic employees than you can count … then you're officially indoctrinated into the Counselor Best Places to Work Road Tour.
This is the fourth year Counselor has embarked on its cross-country tour, but it was my first time along for the ride. My Road Tour companions, Counselor Editor Andy Cohen and Editor-in-Chief Melinda Ligos, told me it would be fun but tiring – which is exactly true. Logging roughly 5,400 miles by car and plane in the span of five days isn't easy.
But it's also a lot of fun. The qualities that make these companies such great places to work – fun, creative, engaging – also makes them excellent hosts. We played soccer with the team from SnugZ USA (asi/88060), celebrated the 20th anniversary of Pinnacle Promotions (asi/295986) and even competed in a Rock-Paper-Scissors tournament at Specialty Incentives (asi/331870). (Should have gone with paper, Andy!) You can read all of our adventures by visiting Counselormag.com/Roadtour.
We've featured these companies often in the pages of Counselor and Wearables, but you can't truly grasp their amazing cultures without visiting them in person. I was struck by many of the things they shared. Their attention to office design, particularly open, airy spaces with inviting meeting areas that foster collaboration. The measured approach they take to hiring the best people instead of rushing to fill a position. Their adherence to a core set of guiding principles – which, in the case of eCompanyStore (asi/185782) and PromoShop (asi/300446), was printed right on the back of their branded shirts.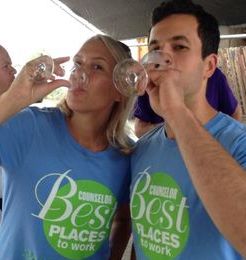 My Road Tour experience reaffirmed my belief that great places to work aren't built by accident. They are the product of conscious and thoughtful planning. To learn some of the best practices that make an inviting work environment, you should attend ASI's second Counselor Best Places to Work Conference Friday, July 18 at the Hotel Chicago Downtown.
Speakers from top industry companies will touch on hot-button issues like health care along with excellent motivation strategies (happy hours, to start). ASI will also recognize the companies on Counselor's Best Places to Work list that will be present at the conference.
And, be sure to check out Counselor's annual Best Places to Work issue, which arrives in September. And get ready – next year, we might be visiting you.
In the top pic, I'm celebrating a victory over Danlyn Iantorno, the COO of Specialty Incentives, in Rock-Paper-Scissors. The bottom pic is Melinda and I at the wine tasting at A+ Wine Designs.