It's SOI Survey Time
Friday March 7, 2014 | Filed under: News About ASI, Research
Each year, ASI conducts the most comprehensive and important research about our industry to create the Counselor State of the Industry report. But we can't do it without you.
All we ask is that you take 10 minutes to complete a survey, and you'll be entered to win a sweepstakes for a $250 Visa gift card. The survey ends April 4. If you're a distributor, click here to take the survey. Suppliers, please click here.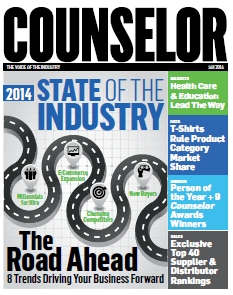 It's important because your info leads to the in-depth reporting conducted each year by the Counselor team on key sales, marketing and operational metrics used every day by industry practitioners. Nowhere else do you get the scope of this detailed information about our industry. And it's free to ASI members.
The SOI report, which comes out in print and online each summer, is considered the most influential in the industry – and for good reason. It's a definitive analysis of this industry's most recent past as well as a roadmap to the future.
With your responses, we're able to help you grow your business by revealing critical information such as:
Most popular product categories
Innovative marketing and advertising techniques
Once Counselor's SOI issue comes out, read it cover-to-cover and cherry-pick the stats and info most useful to your business. And be sure to read the growth strategies that are working wonders for industry leaders – and put them to work for you.
Along with tons of sales-generating ideas, this year's report analyzes 2013 sales to determine the biggest markets and most popular products.
Remember: The 10 minutes you invest in taking the survey today will pay off in dividends come summer. Thanks for your help – and great luck winning the gift card!