Happiness, Canada Style
Thursday June 19, 2014 | Filed under: Community, Members, News About ASI
It's no wonder polls officially rank Canada as among the happiest countries in the world. In general, Canadians seem like a very happy bunch, and it was a real pleasure to enjoy their company at this year's ASI Power Summit Canada.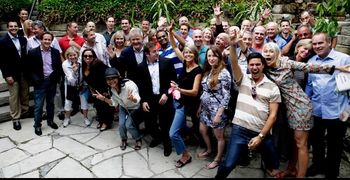 We packed a lot of info and a ton of serious socializing into the gathering in lovely Niagara-on-the-Lake and I want to thank everyone who attended and shared their knowledge with the group, which included entrepreneurs, CEOs and small-business owners from both sides of the border and throughout the promotional products industry.
The Q&A I conducted with Brian Lee Crowley, managing director of business and economic think tank Macdonald-Laurier Institute, tied for highest-rated panel with the social media discussion spearheaded by ASI's creative director Jake Krolick and two of the savviest social media masters in the industry: Mark Graham, co-owner of distributor firm RIGHTSLEEVE, founding member of PromoKitchen and Counselor's 2011 Entrepreneur of the Year; and Sarah White, COO and co-founder of distributor Fairware and one of Canada's leading female entrepreneurs.
In addition to our panel discussions and breaks for golf and a trip to the famous falls, we also broke into smaller groups of suppliers and distributors so they could share their thoughts on the most substantive issues they face. Below is a brief recap, from the two points of view.
Distributors talked about…
Improving strategic relationships with suppliers and becoming more aware of where products are from, how they're made etc.
Streamlining the order process by realizing most clients want to order and move on quickly.
Knowing more millennial consumers are increasingly conscientious and want to know if products are recyclable – and are sometimes willing to pay more for products if their purchase will promote the greater good.
Becoming aware of potential implications of Alibaba's coming U.S. IPO later this summer.
More understanding of the value suppliers bring in regards to regulations, compliance, safety and social issues.
Keeping track of pending anti-spam laws. As of July 1, Canadian businesses will be required to obtain either express "opt-in" or implied consent to send emails to potential clients. Although it's one of the most onerous anti-spam laws in the world, distributors are less concerned about existing clients but preparing for impact on future prospecting.
Suppliers talked about…
Implications of changing demographics of end-buyers increasingly comfortable with searching online via sites like Amazon.com and making sure their platform is robust enough.
More collaboration between suppliers and distributors to educate end-buyers on promo products' high ROI.
Determining hot-button issues surrounding compliance and safety and making sure distributors ask clients for their concerns so suppliers have info on hand to satisfy their questions.
For more info on the Power Summit discussions, please click here for recent Counselor Promogram coverage, including video interviews with some of our speakers. Click here for a Facebook gallery of photos from the event.
You can also click here to read our press release on the 2014 list of top 10 fastest-growing ad specialty companies in Canada, released during the Power Summit. Redwood Classics Apparel (asi/81627), a Toronto, Ontario-based promotional apparel company headed by Kathy Cheng that specializes in goods made in North America, topped the list at No. 1, growing nearly 160% between 2011 and 2013.
If you missed the Power Summit in Canada, there's plenty of time to plan for next year, when we'll gather June 21-23 at the Four Seasons Resort in Whistler, British Columbia. (I knew we had a winner with this year's event when I found out how many of this year's attendees have already signed up for 2015!).
If you were in Canada with us, I'd love to hear your thoughts so please post a comment or e-mail me here. I'm also on Twitter and LinkedIn.
P.S. The top pic is our group photo and the second pic is me with Dave Saracino, VP of field sales for BIC Graphic USA (asi/40480), left, and Carol de Ville, president of The Branding Company and a former PPPC chairperson.