Driving Serious Fun
Tuesday July 8, 2014 | Filed under: ASI Shows, ASICentral, Community, Industry Initiatives, Members, News About ASI, Using Ad Specialties
There's no better time than summer to tackle an offbeat project, all in the name of fun. In that spirit, ASI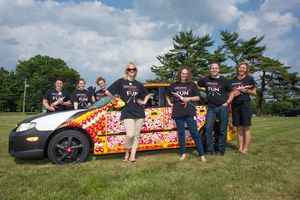 created an "ArtCar" that we're driving over 750 miles from our headquarters outside Philadelphia to display at ASI Chicago. Think of it as our "moving billboard" advertising the promo industry.
The campaign is called "Driving Serious Fun" – a nod to the industry's creativity and to the wacky idea of gluing dozens of logoed items to a used Mazda in the hopes of attracting attention via social media. The hashtag is #ASIPromocar and we'd love it if you'd follow/share/like us on ASI's Facebook page and on Pinterest here and here.
To see how we did it, watch our video on YouTube.
At the Chicago show, the Promocar will be on display in registration. If you're there, please stop by and check it out. I'm betting you'll be amazed at how long-familiar items like stress balls can be transformed into something wholly unique.
The goals are pretty simple. The Promocar is intended to: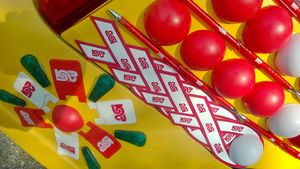 Generate buzz through a social media campaign
Show off the industry's creativity in Chicago – a city known for its art
Attract media attention
Open discussions about the industry and promotional products
Make people smile
When we started this project over a month ago, I didn't know much about ArtCars. Turns out, the ASI Promocar is part of a long, strange tradition, ranging from VW buses decorated by artistic hippies in the '60s all the way to mutant vehicles on the Playa at the annual Burning Man festival.

As long as sight lines are maintained and vitals like headlights, gas tank and doors remain accessible, there's no law against painting and decorating your car with pretty much anything you'd like. Who knew?

For our part, we didn't want to just glue a bunch of stuff to a car. We wanted to maintain the "art" in ArtCar through patterns, color and design.

All told, painting the hood and roof to resemble a road took the better part of a weekend, with the main gluing requiring three days work in our warehouse. The project took nine willing employees, 10 tubes of silicone glue, six rolls of painter's tape, 50 pairs of gloves, two cases of bottled water, three cans of Rustoleum paint mixed with playground sand to resemble asphalt, a lot of very loud rock and roll, six fans for ventilation, a drill, a sander, a sense of humor and a ton of patience (imagine how long it would take to adhere a pen to the side of your car – then multiply it ten-fold).

To get us started, we put out a call for logoed items to suppliers and the following companies jumped in and donated products like mousepads, key chains, pinwheels, flip-flops and pens:
Prime Line, asi/79530
Digispec, asi/49716
All-In-One, asi/34256
Footprints USA, asi/55030
PromoMatting, asi/35750
IDProductsource, asi/62088
Zenith Promotions, asi/98980
Nationwide Promotions LLC, asi/73464
Chulani Promotional Products Inc., asi/45100
Having never done anything like this before, we had a lot to learn. Although thoroughly researched, every car and every object is different, and there are a ton of variables – not to mention moving parts, high speeds and weather. We road tested the Promocar at 60 mph on I-95 when we finished and so far, so good.

P.S. You'll have to look close, inside and out, to see how we used the various products. Hint: Inside, look up and in the back seat. You might even see a few familiar "faces."