Celebrating with Fun and Flair
Wednesday July 16, 2014 | Filed under: ASI Shows, Community, Members, News About ASI, Using Ad Specialties
ASI is celebrating its 15th anniversary of hosting a national trade show in the great city of Chicago with a ton of fun and flair. The show features info-packed education sessions, top-flight suppliers, team-building distributor sales meetings and awesome presentations.

ASI Chicago takes place through Thursday, July 17, at McCormick Place and features numerous Counselor® Top 40 suppliers and over 100 exhibitors new to Chicago this year. The show is a big draw to entrepreneurs, CEOs and small business owners located throughout the Midwest, and beyond.
At the traditional ASI Show dinner attended by show employees ASI's chairman, Norman Cohn, shared some wonderful stories about our 15 years in Chicago, which is one of my all-time favorite cities to visit. We all love coming here and hope everyone is enjoying everything the city has to offer (including those amazing restaurants).
At the show, Thursday's highlight is sure to be Erik Wahl, a best-selling business author who believes creativity is the new corporate capital, who will actually paint right on stage during his keynote.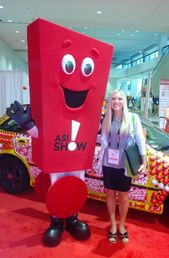 ASI's education featured a special half-day session with business guru Stephen M.R. Covey titled "Selling at the Speed of Trust." Education also included a new Screen-Printing Success Track, part of ASI's new relationship with ST Media, sponsored by Workhorse Products.
As part of this new relationship, we also unveiled the news Signage + Decoration Pavilion, featuring well-known equipment companies and live education (both days). I hope you take the time to stop by and check it out.
Chicago is a city that loves its art – both public street art and on display in wonderful museums. In a nod to that creativity, ASI did something really fun: glued a variety of promotional products donated by ASI suppliers to a used Mazda we then drove 750 miles from ASI headquarters in Philadelphia to the show, where it's on display and available for people to sign and get their photo taken.
The car is intended to drive attention to the industry's ingenuity and to the products themselves. Nothing says durable like surviving a trip through four states on a high-speed interstate! During the drive we only lost a single product. If you took pics of the car please post to your social media using hashtag #ASIpromocar.
The show excitement continued at the prestigious 2014 Counselor® Awards, held this year at Chicago's Museum of Broadcast Communications. At the black-tie ceremony, Counselor announced the Top 40 Distributors and Top 40 Suppliers rankings – the largest companies in the $20.5 billion promotional products industry, based upon 2013 revenue. We also named Norman Hullinger, CEO of alphabroder (asi/34063), as Person of the Year and Suzanne Worwood, merchandising VP of 4imprint Inc. (asi/197045), as International Person of the Year.
Go to www.asicentral.com for complete coverage of the show, including blogs and videos from ASI's on-site editorial team. For more photos, be sure to visit the ASI Show Facebook page and ASI's Facebook page.