You Can Have Your Cake and Eat It, Too
Thursday May 9, 2013 | Filed under: ASI Shows
I lived in Hoboken, N.J., back in the early '80s and must have passed Carlo's Bakery a thousand times when headed across the river to my Dow Jones internship in Manhattan. I was finally on my way to achieving the dreams I had as a kid, back home in Indiana – but I still had a long way to go.
Back then, a 6-year-old Buddy Valastro Jr. was hanging around that same bakery, absorbing his very first lessons in running a successful family business. We might even have crossed paths on Washington Street, where the original bakery is still based.  Earlier today – the final day of the ASI New York Show – Buddy shared some of those lessons during a fascinating keynote.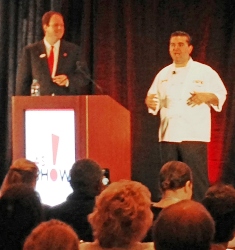 Under Buddy's guidance, the small family business has blossomed into a household name. "The Cake Boss," the TLC reality show that helped send Buddy into the stratosphere, is now broadcast in 180 countries – and seen by more than a billion people – all while remaining true to his family heritage.
Coming up, more bakeries, more products and an even bigger brand.
"It's a dream come true," he told a standing room only crowd of entrepreneurs who are just like him. "I own a family business. I can relate. I'm like you guys. I'm on TV, but at the end of the day I've got to make my payroll every week."
Buddy started working at the bakery at 11 and, at 17, when his father died of cancer, he was thrust into sudden responsibility for 40 employees, with his entire family looking to him to keep the business afloat.
College set aside, his business school became an old-fashioned Italian bakery.
"I decided to go outside the box and make cakes that didn't look like anything else," said the self-described "sugar artist."
He got his first big break when an editor at "Modern Bride" magazine saw his cakes in the window. For the next three years, Buddy's cakes appeared in every issue of the magazine. Within 10 years, they'd appeared in over 200 other publications.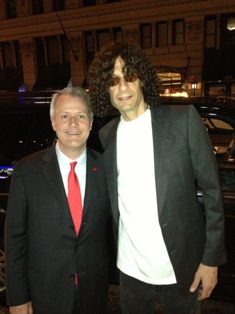 But like many small business owners, he had his share of disappointments, like being passed over by the Food Network, which turned out to be a lucky break, since TLC soon gave him a shot. "I told my agent, 'I'm Buddy Valastro, I don't fail.' I'm a quick learner and I don't have all my eggs in one basket."
Building relationships and building his brand was the key, he said. "There's a lot of celebrity chefs, but no celebrity bakers. I want to stay America's baker. My show is seen in the Middle East, in Africa, Australia. What's the connection? At its essence, my show is about family and the whole world can agree about family."
He dished up a lot of advice (along with delicious cake served later at the booth of keynote sponsor Showdown Displays):
Be honest with who you are.
Never forget where you came from.
Always be humble and respectful.
"I'm my brand," he said. "I do things the old-fashioned way. When kids come up to me and hug me, they look at me like I'm Superman – so I'm Superman for them."
In closing, Buddy told us he was honored to be with us, and then ended with a dose of reality we can all relate to: "I'm a businessman. If I'm not making money, why be in business? We're not a charity."
In the photos, here's Buddy on stage with ASI vice-chairman Matthew Cohn and here I am with "Howard Stern," (that's my story and I'm sticking to it) at the ASI Hot Party Wednesday night.