Windy City Wow
Tuesday July 16, 2013 | Filed under: ASI Shows, Community
I'm in Chicago for the last major ASI Show® of the season, meeting with members, listening to the constant rumble of the famous "El" train and marveling at the stately architecture. No wonder a record 16 distributor sales meetings are taking place during the show at McCormick Place – it's a great show in an amazing city.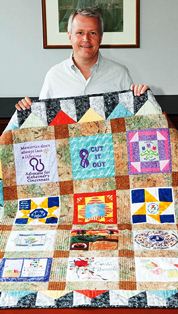 Along with two exhibit days and a full day of ASI education, we'll also celebrate the 2013 Counselor®Award winners at a special ceremony on Wednesday at the Art Institute of Chicago, following cocktails  among the Impressionists. Which companies hit the Top 40 lists? Who is 2013's Person of the Year? Check out www.asicentral.com (and this blog) for complete coverage on Thursday.
If you're here with us, make sure to check out a few features special to this show, the industry's premier summer event:
Three specialized pavilions – New to Chicago, Incentives and ASI Decorating – showcasing unique items.
The debut of the Stitches® Hopeful Hearts Quilt, created by decorators from around the nation who each made a quilt square in honor of a cause close to their heart. Their experiences with public service will be documented in Stitches magazine in August. Check out this beautiful display at the Advantages New Product Pavilion. At right, here I am with the quilt.
Wednesday tech workshops with ASI's Chief Technology Officer, Armughan Rafat, in Room N139, 10-11 a.m. and 12-1 p.m. (includes lunch). Click here to register. Throughout the show, be sure to visit the ASI® booth for demos of our newest ESP Mobile™ apps.
Thursday morning's keynote by Christopher Gardner, the rags-to-riches stockbroker whose story inspired the Will Smith movie, "The Pursuit of Happyness." He's advising us on the importance of giving back along with sales-generating strategies any business can apply.
If you're here in Chicago, let me know what you're looking forward to the most by posting a comment or e-mailing me here – and keep those tweets coming! And be sure to visit www.asicentral.com for show blogs and videos.