Ten Years … And Counting
Friday March 1, 2013 | Filed under: Community, News About ASI
Hard to believe, but this week I celebrated my 10-year anniversary with ASI®. Looking back, it's amazing to consider how the world, the industry and ASI have changed. I remember seeing people walking the halls speaking into dictaphones! Now, we can utter a few words into our mobile phones and, in a flash, see an entire display of the latest products in ESP Mobile™.
One constant: the steadfast commitment of the Cohn family and ASI to this industry. And I'm very proud to say the ASI number is still the number that matters.
I joined ASI on Feb. 24, 2003 (see my first official company photo at right). And what I said at my first real industry gathering still rings true. This is an industry in which many small companies and families are invested – and it's an industry where everyone always seems to have such a good time.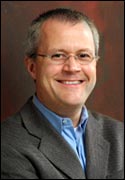 At that same meeting, I promised you'd always know where I stand and that I'd always want to know where you stand. You can still email me anytime at tim.andrews@asicentral.com with questions, comments or concerns.
When it comes to our products, I can say with confidence they're the best in the world. The numbers say it best: in 10 short years, ESP® has increased from 5,000 users all the way to 2012's record of 38,800. Today, an incredible 72% of all product searches in the industry are conducted in ESP.
When I joined, ASI had 19,000 members. Now, we have over 25,000. And from 5,000 ASI-hosted member websites we've grown to over 17,000 – with more coming online every day.
From a handful of live education courses, we've developed into the largest educator in the industry, with more than 25,000 people currently enrolled in the ASI Education Certification Program. Our trade show coverage is the largest in the industry, too, with 18,872 attending across five shows in 2012. Exhibitor and flow space numbers are also growing.
And this September 15-17, we'll host our 7th U.S. Power Summit at the Montage Deer Valley Resort in Park City, Utah. In addition, we'll launch the very first Canadian Power Summit, taking place June 12-14 at the Fairmont Banff Springs in Alberta.
The industry itself is certainly keeping pace. My first year, industry sales were $16.1 billion. In 2012, we hit $19.4 billion, enjoying 12 straight quarters of growth. In the face of the recent recession, how many other industries can say that?
Ten years is a long time, but when I look around ASI's office, I realize I still have a long way to go to catch up with industry veterans like Mel Viers in customer service, who's been with us 41 years. Jim Lang, our editorial creative director, is right behind Mel with 38 years on the job. These guys make Ron Ball, our VP of supplier sales, who just celebrated his 35th ASI anniversary, almost look like a newbie!
But few come close to ASI's chairman of the board, Norman Cohn, who recently celebrated his 80th birthday. He and the Cohn family have led ASI for 51 years – and Norman's been in the industry 61 years. Norman is the second generation involved, with Matthew Cohn and Stephanie Cohn Schaeffer from the third generation both active as well, and grandchildren from the fourth generation have already served as interns.
As it did from the start, ASI's number-one goal remains helping you become more successful.
With ASI, you're never alone. On any given day you've got over 400 talented designers, developers, writers, trainers, account execs, analysts and brand experts available to help you with every aspect of your business.
One thing that can't change fast enough, however, is the diversification of our industry. I remember looking out over a sea of older, white males at my very first ASI Show in Chicago. Zip ahead a decade and, sadly, the landscape remains pretty much the same. And that needs to change.
That said, I'd like to thank you all for your advice and counsel and for the patience you've shown me over the years. Looking forward, I can honestly say I'm more excited about this industry than ever before. I'm continually impressed by the passion and creativity that power us all – and I can't wait to see what happens next.