Rising From the Rubble
Thursday May 23, 2013 | Filed under: Community, News About ASI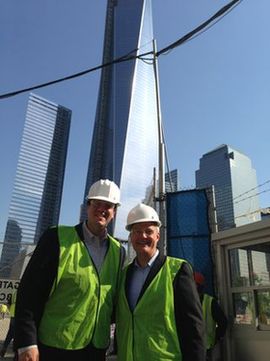 The views from the top of the world – the top at One World Trade Center, that is – are striking. Although still under construction, I was lucky enough to get a recent tour of the $3 billion (and counting) tower being built on the WTC site. To the New Yorker I'll always be, no matter where I live, it was unbelievably exciting.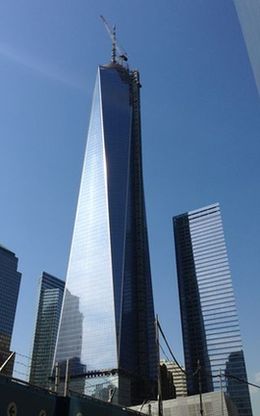 Sporting the required hard hat, I zoomed up, up, up with ASI® Vice Chairman Matthew Cohn, who had arranged for me to be his guest as part of Matthew's active involvement in the Young Presidents' Organization (YPO), a networking organization of over 20,000 business leaders in more than 120 countries. There were only about a dozen of us, and we spent more than two hours on the site.  It was a total thrill!
We traveled to the 90th floor in an outside construction elevator, which wasn't as scary as you might imagine. Although wind gusts could conceivably reach 100 mph, and most tall buildings are designed to sway in strong wind as much as three feet, I didn't feel any movement – well, no more than I had anticipated.
A few weeks ago, the building reached an important milestone when a crowning, 408-foot spire was raised, bringing the high-rise to 1,776 feet, a symbolic reference to American independence. (Click here to watch a very cool New York Times time-lapse video of the spire, a broadcast antenna, going up.)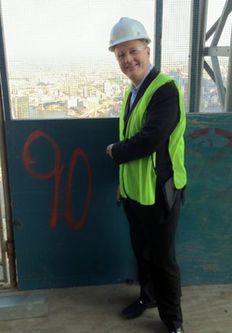 I wish my iPhone photos could do the scene justice. On a clear day from the "top of the house," as the hard hats say, you can see all the way into Connecticut, New Jersey and the Atlantic Ocean.
As you can imagine, those of us on the tour had a lot of questions about security. The 104-story building – currently the tallest in the U.S., with 3 million square feet of office space – was built on bedrock atop a 185-foot windowless concrete base, designed to withstand ground-level truck bombs.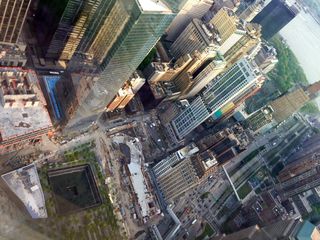 In addition, there's a concrete core, six feet thick in some places, that's been likened to that in a nuclear power plant, with rebar "big as tree limbs," housing elevators, communications, stairs and sprinklers. There are even biological and chemical filters throughout the ventilation system.
Interestingly, a lot of the mostly steam-powered building's structure is constructed from post-industrial recycled materials, and recycling is also a big part of its operation, from rainwater collection for cooling to 80% waste product recycling.
Eventually, the entire World Trade Center complex will feature a total of five high-rises along with a nearly $4 billion underground PATH transportation hub, below – on track to be the world's most expensive train station.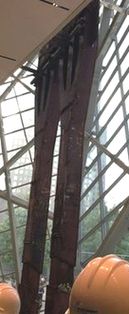 Although suitably wowed by the complex's wonder, to me the most moving sight was of the two iconic steel tridents, at right,  that once supported the south tower. Amazingly, though scarred and burned, they withstood the building's fall and now grace the National September 11 Memorial & Museum opening next year.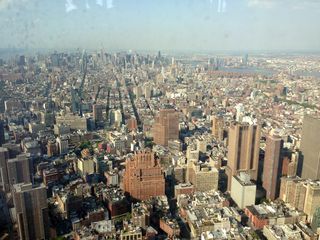 This visit carried a lot of personal meaning, and brought back a lot of memories.
I worked in Manhattan for 15 years, and most of that time I lived in Hoboken or Jersey City, across the Hudson River. Every day, I took the PATH train into WTC, rode an escalator to the shopping concourse, walked onto the Plaza and then crossed the street to my office in the World Financial Center.
I hadn't worked regularly in New York City for a couple of years, but the day before 9/11 I had an appointment and decided to go in early and have breakfast at a favorite spot in the WTC. It wasn't the famous Windows on the World restaurant at the top of WTC – it was around the 42nd or 43rd floor, with incredible views and good omelets. The next day, I would have been a casualty of the attack.
Until last week, I had only visited the site once. It was absolutely perfect to see a soaring new structure, rising from the rubble, zoom to the 90th floor, tour the new PATH complex several stories into the ground, and come out with dust and dirt all over my pants and shoes.
Thanks, Matthew. A wonderful gift, a wonderful new memory.