Online Learning Center Earns A+ Praise
Friday December 6, 2013 | Filed under: ASI Shows, Community, Education, Guest Blog
Distributor Stephanie Jackson is usually up and out of the house by 5 a.m. six days a week to work out. But on quiet Sunday mornings, this serious athlete has made it a habit to relax, coffee in hand, and take classes in ASI's Online Learning Center.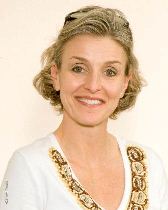 After taking a few courses and "actually learning important information about the industry and our products, I got even more committed," says Stephanie (at right), who went on to earn her Bachelor of Advertising Specialty Information. What's more, she has the distinction of being the first distributor to complete her certification requirements and pass her final exam on ASI's brand-new Online Learning Center platform.
It's because of dedicated industry pros like Stephanie that I'm so proud of the major upgrade we've made to ASI's education hub. The revamped site, powered by the latest in learning technology, is designed to help distributors, suppliers, decorators and screen printers quickly and easily access more free classes, additional resource tools and new social media sharing.
"The best part of achieving my BASI is the confidence it provides," says Stephanie. "I've been in this industry a little over a year and what I've learned via actual experience, coupled with my ASI Education training, has provided me a firm foundation. I've always been a fan of continuing education, and would wholeheartedly recommend it to both industry newbies and veterans."
Super-motivated Jackson describes the ad specialty industry as a hard business due to online competitors and price wars. But her fun job title – The Inquisitive Marketing Advisor at Signature Services & Promotional Products – reflects her commitment to really listening to her clients and delivering top-notch marketing campaigns for them. "I've won a lot of business that would have gone to an online competitor," she says. "The deciding factor for my new clients was the service I delivered and my quick response to their needs."
To better serve dedicated pros like Stephanie, the ASI Education Team and I focused on creating an entirely new, user-focused learning experience for our members via this upgraded Online Learning Center platform, which features:
Super-intuitive user interface. A superior user experience is available through a customizable home page with movable widgets, such as an events calendar, RSS feeds and polls.
Social learning. Post photos and videos, join or start discussion boards and "friend" other learners to view and share material, questions and opinions.
Added content. Includes ASI research reports, magazine articles and other resources.
Easy access. Log on with existing ESP Web credentials.
ASI's Online Learning Center houses more than 350 on-demand courses in a variety of industry-specific curriculums, such as sales, marketing, wearables and decorating, which are free to members and automatically tracked electronically. Courses range from introductory to executive level, making them ideal for both newcomers and industry veterans.

Finally, I'm happy to say that, to date, 1,151 professionals (including Stephanie) have been certified through the ASI Education Certification Program, with nearly 30,000 enrolled in ASI's free Online Learning Center.

Stephanie, who can't wait to receive her BASI pin from ASI President and CEO Timothy M. Andrews at the ASI Show in Orlando, plans to continue taking courses to keep her competitive edge. "I love that I get tested on the material I learn and that there are always new courses being added," she says.

Please login to our new Online Learning Center soon at www.asicentral.com/onlinelearning and experience it for yourself. I welcome your feedback, so drop me a line anytime at nrollender@asicentral.com. Happy learning!

– Nicole Rollender is ASI's executive director of professional development