NYC 2014: New Dates, New Days
Friday May 10, 2013 | Filed under: ASI Shows
ASI® ended its recent New York show with an announcement we hope pleases tri-state members as well as the out-of-towners looking for new product ideas and contacts while sampling all the city has to offer. Next year, we're pushing the dates from midweek to Thursday and Friday, April 3 and 4.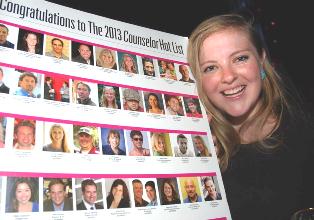 Our aim is to make it easier for people to end a long work week with a fun weekend in the city – or to get home knowing they're heading right into two work-free days.
Despite the rain, this year's event at the Javits Center was everything we hoped, attracting over 2,000 distributors from 10 countries and 275 suppliers showcasing the latest ad specialty products. Since we're all about making each show as productive and enjoyable as possible, we made a few changes, including moving the show to the brighter, more accessible North Pavilion and cutting back from three to two days, while offering ASI Education throughout the entire show, so members could easily earn more credits toward ASI Certification.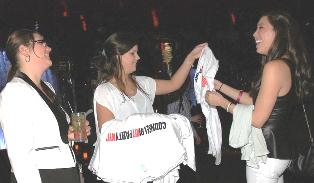 I spoke to one new member who said she attended nearly every class and got a lot out of the informed instructors and valuable content. Early feedback shows the Ad Specialty Crash Course: Sell Successfully Now workshop and the Distributor Success Lunch: Use Social Media for Sales Success (both part of the Distributor Success Track sponsored by Fields Mfg., asi/54100) proved especially popular.
Your comments are critical. If you like something, please let us know. Equally important, if you think an area needs improvement or could be done differently, your ideas are welcome. Staffers working the booths and meeting with members gathered a ton of positive reactions to ASI New York, including:
Wendy Cohen, from Avant Guard Printing and Promotions (asi/127845): "I found so many new products to bring back to my clients. I'm finding items I didn't even know existed. I would recommend ASI New York to everyone."
Steve Bloom, from Tattoo Factory (asi/90650): "ASI New York has been a really good show from the moment it opened. Traffic has been nonstop. We've scanned a lot of people, handed out tons of catalogs and gotten some great leads."
Bill Holmes, from Blue Generation (asi/40653): "ASI New York is one of the best shows we've done. We've been very busy. And, the distributors are really high quality – asking good questions."
Carey Seekell, from Culver Company (asi/172223): "It's the first time in quite some time that I've attended an industry event that's been worth my time. I'm so glad I came."
I saw a lot of people at Counselor® magazine's annual Hot Party, which was in a jaw-dropping setting – the nightclub 230 Fifth on 27th Street, in sight of the always-glorious Empire State Building (whose image was captured in a six-foot ice sculpture that doubled as a drink luge, pictured below). In addition to a cool lounge, we could head up to a second rooftop bar, where anyone feeling the chill could snuggle in luxurious red robes supplied by the club.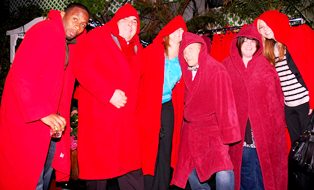 For a complete listing of the 49 Hot List winners we celebrated, click here. And to see photos from the party on ASI's Facebook page, click here (and if you haven't already "liked" our Facebook page, please do). The Hot Party was sponsored by AlightPromos (asi/34194), AIA Corporation (asi/109480), Delta Apparel (asi/49172), Castelli North America (asi/44305) and Chulani (asi/45100).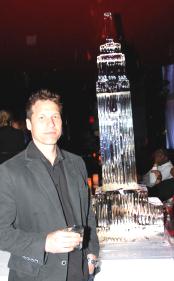 If you were at the show, I hope you heard the keynote by Buddy Valastro Jr., aka "The Cake Boss" from TLC's hit reality show, which is watched by an astonishing billion people worldwide. If you missed it, check out my blog from Thursday, www.asicentral.com or this week's Promogram® for some of the business tips he shared – or just to read about his fascinating trajectory from small business owner to brandmaster. In addition to the speech, Buddy brought a specially-made cake to share during an afternoon presentation in the Exhibit Hall.
The cake went fast, but luckily for the ASI staffers who stayed put in our Trevose office helping other members, we brought back another "Cake Boss" creation for them to sample, too. I think the general consensus was "yum."
While I'm looking forward to kicking back in the garden this weekend, I'm also gearing up for our next show in Chicago (Tues., July 16 through Thurs., July 18) at McCormick Place, which features a keynote by Christopher Gardner, the inspiration behind the award-winning movie "The Pursuit of Happyness" starring Will Smith.
And on August 12, ASI hosts a brand-new show in Dallas called Promotions Southwest. The Advantages Roadshow, the industry's No. 1 traveling roadshow, is in Canada May 14-16 before taking a break until starting again in early August. To learn more about exhibiting or sponsorship opportunities, contact Karen DiTomasso, vice president of sales, at kditomasso@asicentral.com or register today at www.asishow.com.