Long Beach Show Strikes Gold
Monday March 25, 2013 | Filed under: ASI Shows, News About ASI
Our inaugural ASI Show in Long Beach, CA was a true success, from Friday's full day of education through two very busy exhibit days. Suppliers who wondered how the weekend dates would affect attendance were happily surprised by the turnout, and feedback overall was terrific.
Stacy Horton, of Dard Products (asi/48500), dubbed the show "awesome" and said she was so slammed by heavy foot traffic she had to call for help in her booth. "ASI did a great job of getting the right distributors here," she told us. "I honestly think next year many more suppliers will attend and take larger booth spaces. I have so many requests to follow up on."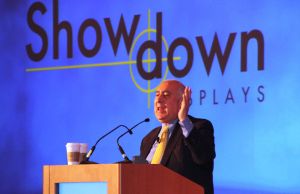 Peter Zeiger, of Geiger (asi/202900), brought a team of 15 to the show, which he rightly described as an "event," thanks to education, a Gala Celebration at Gladstone's, tons of suppliers and big-name keynote Ben Stein. "Attending an ASI Show," he said, "allows you to take your game to the next level."
We moved the show from its traditional berth in San Diego about 120 miles north so thousands of greater LA distributors could take advantage of a more affordable, accessible alternative. Distributors and suppliers alike said they loved the spectacular waterfront location and easy access to major highways, three airports and first-class accommodations.
New shows can be a risk for everyone. Happily, the show delivered, attracting a solid turnout of industry distributors who aren't ASI® members but who either joined on-site or who likely will in coming weeks. 
All told, The ASI Show™ Long Beach, which took place Friday, March 22, through Sunday, March 24, at the Long Beach Convention & Entertainment Center, featured 61 education sessions (attended by 400+), over 300 top-flight suppliers and 11 team-building distributor sales meetings.
Our keynoter, Ben Stein (pictured with me, backstage), really packed the house. We had so many people we had to bring in extra chairs. If you only knew Stein through his turn as the stone-faced teacher in the "Ferris Bueller" movie, you were in for a treat. Funny, frank and informative, Stein shared his unique take on small-business success. Click here for an ASI TV interview with Stein, taped after his keynote, and click here for a previously recorded ASI Radio interview.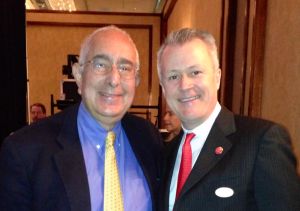 Laura Hook, of EmbroidMe of Cypress (asi/384575), told us Stein made her laugh and cry. "What more could you ask for?" she said. "His point on not taking things for granted was a good one and an impactful one. We cannot sit around and whine about what's not happening because we are the ones who need to get up and make things happen."
What a great takeaway!
Although it was tough to leave 70-degree weather behind to return to a spring snowstorm back East, I'm happy to be home – and eager to hear what you thought of the new show. Please let me know by posting a comment or e-mailing me here. I'm also on Twitter, LinkedIn and YouTube.
Important note about Long Beach 2014: it'll take place during the week, Tuesday, March 25 through Thursday, March 27.  
And don't forget: Other upcoming 2013 ASI Shows are New York (May 8-9) and Chicago (July 16-18). To learn more about exhibiting or sponsorship opportunities, contact Karen DiTomasso, our sales VP, at kditomasso@asicentral.com.