It's Official: ASI is a Great Place to Work
Thursday March 21, 2013 | Filed under: News About ASI
Carol Albright, our intrepid senior VP of human resources, likes to say that ASI® employees "work hard and play harder." This week, Carol got the ultimate confirmation that ASI is a very happy place indeed when it was announced that we won three "Best Places to Work" awards.
For Carol, the best part of this competition is that it was strictly decided by employees, which means the people who work here gave ASI the greatest possible vote of confidence. All told, we won "Best Places to Work-Large Company" (among companies with more than 100 employees), "Best Place for Working Moms" and "Best Employer for New Graduates."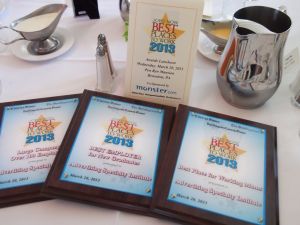 ASI previously won "Best Places to Work" awards in 2012, 2011 and 2010, so I think it's official: this is a great place to work.
Greater Philadelphia Media sponsored the contest to recognize top regional employers, based on nominations by their employees. ASI was presented with its awards at a fancy luncheon at the Pen Ryn Mansion in Bensalem, PA.
Carol's happiness was in full evidence in the text she sent me from the awards ceremony (where she also took the photo of the awards): "Felt like the awards just kept coming … I was so excited I hyperventilated … These awards are because our employees voted for us … OMG."
Part of the reason why we won is because ASI offers competitive benefits, an array of educational programs, an award-winning Wellness Program and diversity initiatives. In addition, employees can enjoy on-site day care, Starbucks and a café featuring healthy options, free fitness classes and gym reimbursement, casual dress every day and community service events.
As for the "fun" part of the equation, we've got everything from field days, ice cream socials and Halloween parties to an annual holiday mixer. In addition, we always recognize creative thinking in our employees with quarterly president's awards and an annual employee awards ceremony.
And we're always looking for more talented people to join our team. To apply for employment at ASI or for more information on the company, click here. Current job openings include sales reps, marketing/copy manager, product manager, business intelligence DBA, senior designer, product and technical support director and controller.
Congratulations, Carol. Now, breathe!