If it's Tuesday, This Must be … Philadelphia?
Thursday May 2, 2013 | Filed under: Community, Members, News About ASI, Using Ad Specialties
I'm writing this at noon from Pennsylvania. But although it's bright and sunny outside, to my travel-weary self, it's actually midnight in Hong Kong – and I'm more than ready for bed. I'm topsy-turvy because I've just returned from a week-long business trip to attend the Hong Kong Gifts & Premiums Show, 8,000 miles away and 12 hours ahead of the East Coast where I live.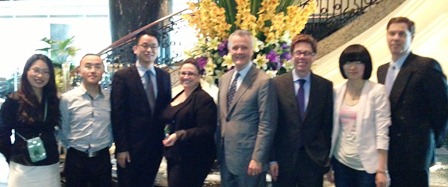 The show is one of the largest in the world for promotional products, attracting over 4,000 exhibitors from 37 countries. Lucky for me, I got to attend alongside veterans like Supplier Global Resource™ editor Michele Bell, publisher Rich Fairfield and Ed Koehler, VP and associate publisher of magazines and catalogs. We were joined during part of the trip by ASI's China-based SGR sales team (pictured with us at right: Melar Wang, Tony Tian, Alan Lee and Tammy Jing), who travel throughout Shanghai, Ningbo, Shenzhen, Xiamen, Guangzhou and Hong Kong selling our new SGR memberships.
The new, strictly exclusive membership connects non-North American manufacturers and agents with ASI's North American suppliers. During the show, we celebrated at a cocktail party for ASI® suppliers that was sponsored and attended by SGR members who are Hong Kong and Chinese manufacturers. And, as much as we love our distributors, ASI believes they are most successful by sourcing from trusted ASI suppliers, so we may as well have hung a "No Distributors Allowed" sign outside the reception. (I wish I had a photo of Rich shooing two distributors away who wanted to crash our event!)
As reported on our website, the show's traffic was noticeably slower than in previous years, despite growth in the Hong Kong gift market of 6% in 2012. Still, the show floor was huge, crowded and packed with a ton of Bluetooth-capable items, tech gadgets, smartphone accessories and eco-friendly products.
In the photos, you can see one of the many colorful displays from the show, along with Hong Kong Harbor.
I've traveled to Asia a number of times, and it's always equally strange and thrilling. While I decided against trying the still-wiggling shrimp served up at one of our dinners, I gladly seized the chance to visit a local friend of an ASI member at his art-filled home, situated on Hong Kong island with a spectacular view of the South China Sea. He's 72 – and recently became a new father! (Maybe it's the shrimp?)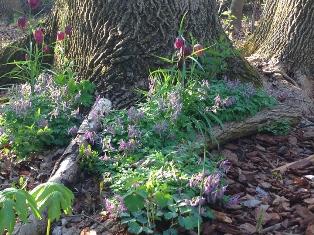 Hong Kong, which is a "special administrative region" of the People's Republic of China, is on China's south coast, bordered by the Pearl River Delta and South China Sea. The city is 426 square miles and home to about 7 million people. To put that into perspective, New York City (including all the boroughs) is 469 square miles and has 8.2 million residents.
And, while I'm always happy to explore the far corners of the Earth, there really is no place like home and garden. (I'm throwing a pic from my garden up in this blog for fun.) Happily, my next trip is less than 100 miles away – to our New York show, taking place Wednesday and Thursday at the Javits Convention Center, and featuring a special keynote by TLC's "Cake Boss," Buddy Valastro Jr., who's dishing up business advice and handing out cake samples from Carlo's famous Hoboken bakery.
If you've done business in Asia, or attended the Hong Kong show, please let me know what you experienced by posting a comment or e-mailing me here. I'm also on Twitter, LinkedIn and YouTube.
P.S. If you're wondering about the blog title, it's a play on the 1969 film, "If It's Tuesday, This Must be Belgium," about a 9-country, 18-day bus trip.