Head True North
Thursday February 14, 2013 | Filed under: News About ASI
The zeitgeist right now is all things Canada – birthplace of Neil Young and Justin Bieber, home to phenomenal hockey, a gorgeous national anthem, some of the funniest comedians ever (Seth Rogen and Eugene Levy) and, now, ASI's very first Canadian Power Summit.

Registration for the June 12-14 confab at the legendary Fairmont Banff Springs Hotel, aka "the castle in the Rockies," is officially open. This is a prime opportunity to join the most influential leaders in Canada's promotional products industry at what promises to be an incredible three days of networking, brainstorming and strategizing at one of the premier destinations in the Great White North.
To register, click here.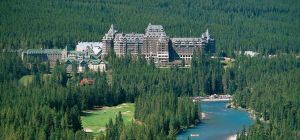 At the summit, we'll cover a full slate of hot topics, including everything you need to know about mobile marketing and lucrative sales markets. We'll also offer an exclusive look at our first-ever Counselor® Canadian State of the Industry report, providing key strategies to move any business forward.
And, we just secured a great keynoter – Dr. Jack Mintz, world-renowned fiscal and tax policy specialist and chair of the School of Public Policy at the University of Calgary, who will discuss the current climate for small businesses in Canada.
Throughout the summit, we'll have numerous chances to explore the 125-year-old resort, which is surrounded by pristine wilderness in the heart of Banff National Park, and everything it has to offer, including great golf, terrific dining and an array of recreational activities.
And while I'm on the topic of cool Canada, there's still time to order your copy of 2013's The Professional Buyer's Guide™ catalog for the Canadian marketplace. It's the best place to find great products from Canadian and Canadian-friendly suppliers – everything from bags, tools and electronics to sporting goods, office supplies and wearables.
In addition, we added some really fresh features this year – full-page advertorials with everything you need to know about select suppliers and a clever buyer's "guided tour" of products to fit any campaign.
I can't say this often enough – catalogs work. The average distributor reports ASI® catalogs produce $19,000 in sales per year. Guaranteed circulation of The Professional Buyer's Guide is 50,000 so click here to order or e-mail pbg@asicentral.com.
And if you're a fan of the country that's produced some of the best-known singers of all time, let me know your favorite – Justin? Joni? – by posting a comment or e-mailing me here. I'm also on Twitter, LinkedIn and YouTube.