Dallas Show Ends on High-Energy Note
Friday February 8, 2013 | Filed under: ASI Shows, Members, News About ASI
The Dallas show that closed Friday attracted over 500 top suppliers and 16 team-building distributor sales meetings, including Counselor® Top 40 distributor American Solutions for Business' winter conference.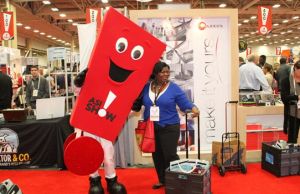 All told, ASI Dallas – the largest industry event in the Southwest – drew 3,645 distributors and 510 suppliers (including 56 exhibiting for the first time in Dallas).
All of us at the show got incredible feedback, which is always great to hear. It's clear a ton of deals took place on the show floor and during numerous networking opportunities. Here's a small sampling of reactions:
Barry Lipsett, CEO of Charles River Apparel (asi/44620): "We did so well we are going to double the size of our booth next year!"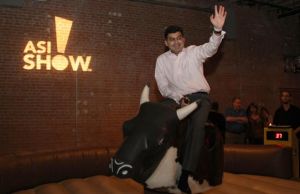 Larry Zavadil, CEO of American Solutions for Business (asi/120075): "ASI Education has been great, and we found tons of ideas on the show floor. Every vendor we've come across has a unique solution to offer."
Gabe McGraw, from Gold Bond (asi/57653): "Distributors are coming in with a list, which makes it easy because that translates into orders and everybody benefits. We've been so happy with ASI Dallas – in fact, with all of The ASI Shows – because they're really big producers for us."
The show was such a hit it even attracted the local news. Fox featured ASI Dallas on its Wednesday broadcast, showing off many of the hottest products at the show (despite the unfortunate use of the word "swag").
On Friday, we kicked off the final day with a wonderful keynote by three-time Super Bowl champion and 2006 "Dancing with the Stars" winner Emmitt Smith, who advised a packed house on successful small business strategies (see pic).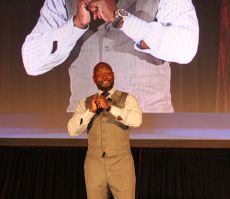 He was such a nice guy he even posted a photo of the two of us on his Facebook page. It's amazing to me how many of our keynote speakers turn out to be so gracious. Maybe they know how lucky they are – and how lucky we are to have them share their fascinating experiences and secrets of success!
As we reported in a special show edition of Counselor® Promogram®, Smith's main message was: "Be bold with your goals."
"Your attitude determines your altitude," he told attendees. "You have to believe in yourself and your own abilities to be able to reach new heights. But, the only way to get there is to write those goals down. It's only a dream until you write it down. That's when it becomes a real goal."
Counselor Editor Andy Cohen interviewed Smith after his keynote session to get more motivational advice. Click here to watch the video.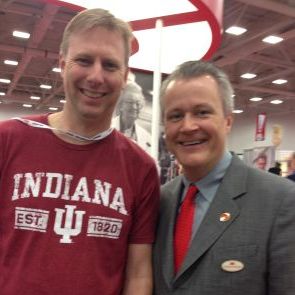 In addition to a lot of work, we had a ton of big Texas fun at the show, too. As you can see from the picture of our happy bull-rider, the industry came together at a boisterous Gala Celebration on Thursday night at the world-famous Gilley's, the inspiration for the John Travolta/Debra Winger blockbuster "Urban Cowboy."
I'm always on the lookout for Hoosiers and was thrilled to spot John Burr at the show (pictured in the Indiana tee shirt with me). John's an account executive with American Solutions for Business. I first met him 6-7 years ago at an ASI show in Philadelphia and he's now working in Pleasantville, NY. In many ways, that's the best part of any show: making – and renewing – connections.
Fortunately, many of the people who attended the show are from the Southwest, so they didn't have any trouble getting home. But many of us who planned to head back to the Philadelphia-NJ area are being delayed by the "Nemo" blizzard. I hope everyone Back East stays warm, dry and safe and that everyone traveling gets home OK. Make sure to check www.asicentral.com for notices of any industry companies affected by the storm.
And if you were at the show, please post a comment or e-mail me here. I'm also on Twitter, LinkedIn and YouTube.
Finally, don't forget, on August 12, ASI® returns to Dallas for the inaugural Promotions Southwest expo at the state-of-the-art Irving Convention Center. Click here for more info and to