Celebrating the Industry in Orlando
Monday January 7, 2013 | Filed under: ASI Shows, Community, Members, News About ASI
We've enjoyed one incredible event after another here at ASI Orlando, including a truly fabulous 80th birthday party for ASI® Chairman Norman Cohn, a super-energized crowd at the 2013 Counselor® Distributor Choice Awards and a standing-room-only keynote by expert economist and political commentator Steve Forbes.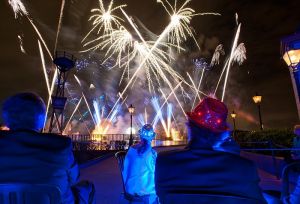 Turns out, Forbes – a very thoughtful guy who provided us with tons of solid business advice – is also very funny. "It's great to see so much energy," he said after being greeted by thunderous applause. "I wish we had such energy in Washington."
A conservative Republican who once ran for president, Forbes was optimistic about the future, despite "headwinds" like an antiquated tax code and a weakened American dollar.
"Many amazing things are about to happen," the Forbes Media chairman told a crowd of about 900 people (so many we had to keep bringing in extra chairs). "We'll have major advances in health care, and America will become a manufacturing giant again thanks to our brainpower and technology."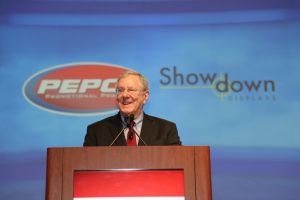 Orlando really has been one great celebration after another. Sunday night, we celebrated suppliers at the 2013Counselor Distributor Choice Awards (sponsored by AIA Corporation, Crystal Sensations, Dunbrooke, and Moderne Glass Company). Taking home the top prize was Top 40 supplier The Magnet Group (asi/68507), which was named Supplier of the Year.
In accepting the award, Magnet CEO Bill Korowitz graciously thanked his employees in a heartfelt speech. Over the years, I've gotten to know Bill, personally and as a member of the ASI Advisory Board, and have come to really appreciate his calm, thoughtful and reasoned side. If I had to sum him up, I'd say he's just the kind of guy you'd like to have as your neighbor. In business, he's always willing to try new approaches and on those rare occasions when he's wrong, he's always willing to admit it.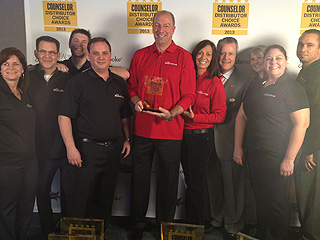 In addition, over many whoops and hollers from a very enthusiastic crowd, we announced supplier winners in 59 different product categories – including three new categories of blankets, coolers and hospitality items. In all, 42 suppliers won awards at the ceremony, which honor suppliers for their service and dedication to their distributor customers.
For more info and a list of all the winners, click here.
Before the ceremony started, ASI's chairman of the board, Norman Cohn, took a few moments to share his thoughts on another industry icon – former ASI president Marvin Spike, who recently passed away.
"Marvin was an extremely passionate supporter of the advertising specialty industry," Norman said. "He will have forever left his mark not only on ASI, but on the entire industry. Marvin cared about each ASI member as if they were his own family. He was a loyal friend, leader and contributor to the entire industry. I am proud to have called Marvin a close friend. His life defined integrity and he will be missed."
Unbelievably, Norman – a very familiar presence at all ASI Shows – just turned 80. On Saturday, we celebrated with a lovely party at the Walt Disney World Resort. While it's hard to keep anything a secret in this industry, somehow we managed to keep the ultimate destination a secret for weeks.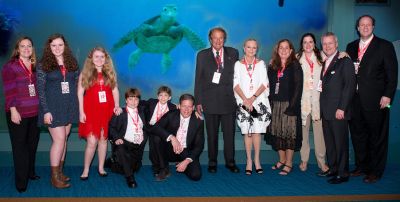 After a champagne toast, the invited guests (who still didn't have a clue where we were headed) were loaded onto three buses and whisked away to a private backstage-access area at the park. After riding in giant clamshells through an amazing 3-D attraction based on the "Finding Nemo" movie, we were treated to four different buffets of Norman's favorite foods (including '50s diner food and his very favorite, pigs in a blanket), 12-foot-tall calypso dancers, dueling pianos and even an enormous dolphin viewing tank, complete with an actual deep-sea diver.
As the birthday cake was wheeled out, ASI Vice Chairman Matthew Cohn called the celebration "an intimate evening of things my dad loves. He loves this industry and he loves his family." As I said in my toast, many of us wouldn't even be in this industry without Norman Cohn – who really is the sun in our ASI universe.
In my favorite moment of the night, Norman thanked all his guests, making special mention of his "trophy wife of 48 years," calling Suzanne Cohn "the reason I'm so lucky in life."
In true Norman fashion, he was wise, funny – and very, very grateful. "I've been active in this industry for 60-plus years and I've seen a lot of change and growth," he told us. "But one thing never changes – my family loves this industry and this business … Hug your family, God bless America and thank you all for being here."
After a rousing rendition of "Happy Birthday," we got all decked out in light-up hats, lanyards, glasses and rings for a final treat: dessert, coffee and front-row seats to a mesmerizing fireworks, laser and water show.
All in all, it was a really special occasion.