'Tis the Season
Friday December 21, 2012 | Filed under: News About ASI
Like so many other businesses, ASI held its annual holiday party this week in our company cafeteria.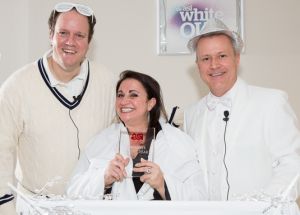 To make it special, we decided on a "Winter White Out" theme and encouraged all employees to dress in white. Fully in the spirit of the occasion, I found a white tux to rent, which I topped off with a white bowler. Beautiful ice sculptures, carved on site with actual chain saws,  provided a cool-looking back-drop, along with servers who looked like members of the "Blue Man Group."
Throughout the party, employees could sit on a full-sized ice throne to get their photo take -- at bottom right, I'm sharing a very cold toast with ASI Chairman Norman Cohn and some of the extraordinary crew.
One of the highlights of the day was the annual awards ceremony, where ASI recognizes the year's top employees. You might recognize some of the names so I'd like to share them with you below: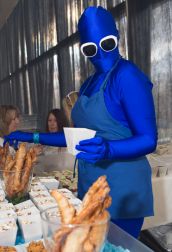 Employee of the Year: Michele Bell, editor of Supplier Global Resource and senior editor of Counselor magazine, pictured at right with me and ASI Vice-Chairman Matthew Cohn.
Michele started at ASI in April 1997. Through the years, Michele has mastered a number of roles, including former editor of Advantages, co-host of the ASI Radio Show and speaker at numerous ASI Shows and Power Summits. Michele will do, and does, anything it takes at ASI to get the job done. Michele can truly be counted on to come through each and every time, no question. She's also an award-winning writer and editor (netting a Neal Award, the "Pulitzer Prize of business journalism," for a piece she wrote on China).
As Melinda Ligos says, "Michele is above all a rabid supporter and participant in everything we do on the editorial team, whether she considers it 'cockamamie' (her favorite word) or not."
The 2012 Manager of the Year: Alice Kraus, assistant director of production.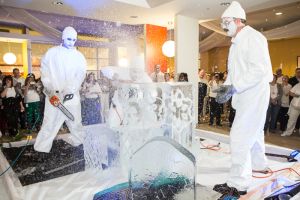 Alice started at ASI in 1980 in a department called the Infoline Library – kind of like the Bell Telephone version of ESP. She stayed until 1983, leaving only to become a new mom. After working from home, she returned to the company in 1991.
Alice becomes the very first employee in ASI's history to win the Manager of the Year Award twice in two different centuries. She won the first in 1999 and remains one of the most dedicated and determined employees ASI has ever had, earning the enduring respect of her staff, coworkers, internal and external clients and ASI management the hard way – by working to the very best of her abilities – and then reaching even further.
The 2012 Rising Star Manager of the Year: Creative Director Jake Krolick.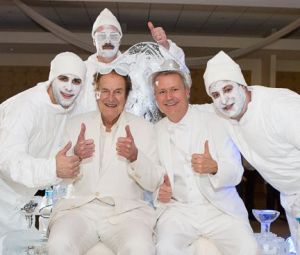 Jake, who's worked at ASI for seven years, charged out of the gate to win Rising Star Employee of the Year in 2007. Anyone who's ever met Jake – or visited his website – or watched one of his many YouTube videos – knows he's a born communicator.
From the start, his extensive experience in video and new media helped ASI launch the most successful video program in ASI history. In addition, this year Jake spearheaded 2 successful catalog redesigns, the Gift Book and the Fall Idea Showcase, in 2012, leading to greater advertising and circulation success.
ASI's 2012 Rising Star Employee of the Year: Finance Business Analyst PJ McCall.
PJ started with ASI in 2011 as a financial analyst on the supplier side and quickly took on more responsibility, working with management on revenue and commission forecasting and with ASI Show on revenue reporting and analysis, and commissions.
Everyone who works with PJ comments on his "can do" attitude, saying he consistently volunteers for new tasks, which he tackles with positive energy and a smile. He's meticulous and extremely organized – and answers every question that comes his way.
I hope you found the time to enjoy some wonderful holiday festivities this year as well. How did your company observe the holiday? Please let me know by posting a comment or e-mailing me here. I'm also on Twitter, LinkedIn and YouTube.