The Heart of the Matter
Wednesday July 11, 2012 | Filed under: Community
I graduated high school in 1980. When I look back, I realize how much has changed – and how much has stayed the same.
It was the year of the Iran hostage crisis, which lost Jimmy Carter the presidency to Ronald Reagan. We were glued to the "Who Shot JR?" episode of "Dallas" – and the all-too-real shooting of John Lennon. For the first time ever, we could watch news 24/7, thanks to the debut of CNN.
That summer, the U.S. led a boycott of the Olympics in Moscow to protest the Soviet invasion of Afghanistan. And with Japan taking over the auto market, GM announced an annual loss for the first time since 1921.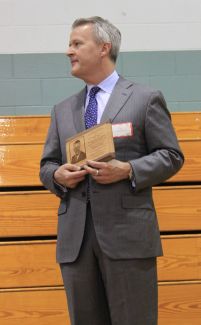 Where were you in 1980? I was in Hope, Indiana, graduating from Hauser High School and on my way to Ball State University to study journalism and economics. Although the world at large seemed so uncertain, everything and anything still seemed possible to a small-town kid with big-city dreams.
My best friend back then was Steve Workman. We bonded as co-editors of the school yearbook and went on to attend the same college. From there, our paths diverged. Steve became a reverend and music teacher and among his many accomplishments, he supported internships for college students, helped start a men's homeless shelter and mentored other young ministers – while serving on the board of a local food pantry and on a school board in Illinois.
Those crazy-wonderful days of high school – days filled with hope and promise and heartache and best friends you thought you'd know for life – flooded back recently when I returned to my hometown to be inducted into my high school's 2012 Alumni Hall of Fame.
It was a lovely ceremony, and I was so honored to be on a list of Hauser alumni that also included my old friend Steve. Clear as day, I could still picture the two of us flying down the hallways of our old school, always on our way someplace – anyplace – fast.
Steve wasn't at the Hall of Fame ceremony. He died in March 2011, at age 48, leaving behind a wife and a daughter and, I am sure, hundreds of parishioners who also loved him for all he did for his church and his community. Steve's family shared the stage with me at the induction ceremony.
Service to others is a fitting legacy for Steve – and something for all of us to aspire to, no matter what community we serve. As everything else changes, that's one thing I hope, for me, always stays the same.