Scoring Economic Gold
Thursday August 2, 2012 | Filed under: News About ASI, Research
Watching the fanfare leading up to the Olympics, it's clear the famously acerbic Brits love to complain. In fact, one cheekily admitted that if there were a competition for grousing, the U.K. would almost certainly take home the gold.
And, make no mistake, I love all of our British friends, including Alistair Mylchreest, CEO of Sourcing City and our new PromoAlliance partner.
Happily, despite all the worries over everything from sunshine to security, it's pretty clear the London games are going, well, swimmingly. (Yes, I did indeed watch in awe as Michael Phelps swam into Olympic history with his 19th medal.)
It seems like optimism has fallen out of favor just about everywhere these days, which is why I am delighted to share more good news. ASI research shows a year-over-year increase in sales among ASI® distributor members of 4.8% for Q2 – making it the 10th consecutive quarterly year-over-year increase in sales.
Who can possibly grouse about that?
In addition, Forbes magazine recently reported hiring at U.S. businesses continued at a modest pace last month, with June's gains indicating that the labor market is healthier than supposed. The U.S. added 163,000 new private jobs last month, with small and mid-size businesses (ones like many of ours) driving the growth, adding 86% of new jobs.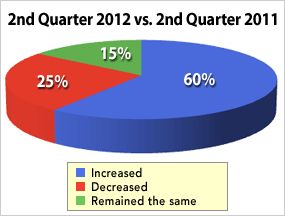 We may not be climbing up on the medal stand quite yet, but things are looking up.
ASI's 2Q 2012 Sales Study Report, prepared by our executive director of research services, Larry Basinait, included the following highlights:
During the second quarter of 2012, there was a 4.8% year-over-year increase in sales among ASI distributor members. Over one-half (59.7%) of all distributors reported an increase in the second quarter, with the largest distributorships reporting an increase in sales of 7.8%.
The increase in sales reported results in industry growth of $213 million over the second quarter of 2011. Sales for the second quarter of 2012 were approximately $4.6 billion.
Distributors largely remain optimistic about sales for 2012, particularly the largest distributors. Seven in ten (70%) of all distributors and 76% of large distributors feel sales for 2012 will be higher than sales in 2011.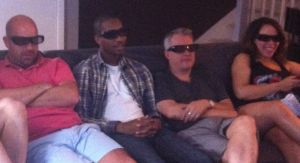 I'd love to know how your company is faring – and if you're watching the Olympics – so post a comment or e-mail me here. I'm also on Twitter, LinkedIn and YouTube.
So far, I've especially enjoyed the thrilling performances of men's water polo, beach volleyball, the gold-medal-winning women's gymnastics team and the amazing swimmers Allison Schmitt and Missy Franklin. Watching them, you can't help breaking into smiles – and feeling good about the good ole USA.
P.S. If you haven't already, check out the Olympics in 3D. I joined my friend Elvin Montero in endorsing the Xfinity 3D channel, and in the photo at right (credited to Elvin) you can see me enjoying the spectacle with friends – in our special 3D spectacles.