Q1 Revenues Jump
Thursday April 26, 2012 | Filed under: Community, News About ASI
As we steam toward the second half of the year, it's a great time to give a shout-out to the positive results touted in ASI®'s most recent quarterly sales report, showing distributors increased their revenues in Q1 2012 by 6.7% over Q1 2011.
Click here to read the full report.
And if you need even more evidence the economy has finally turned a corner, check out a CNBC report that says the European debt crisis could actually provide a much-needed lift for American manufacturers.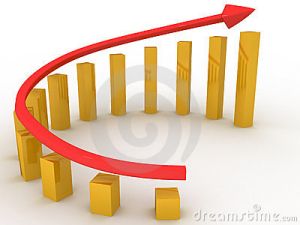 The report goes on to say earnings for large companies like 3M and United Technologies shone in Q1, thanks in good part to bustling domestic business and some shield from the foreign turmoil. Friday, the U.S. government releases its initial GDP estimate for Q1, with economists expecting a gain of about 2.6%.
As they say, a rising tide lifts all ships.
ASI's own Quarterly Sales Report measured sales results of industry distributors from January 1 through March 31. The good news for this industry is that distributors in the ad specialty market increased their overall revenues by $247 million in Q1, marking the ninth straight quarterly increase.
Hard to believe, but the last time the industry's distributors faced decreasing sales was in the fourth quarter of 2009. The dark days of 2008 recede farther and farther away with every quarter.
Further, the distributors surveyed – representing a cross section of companies of all sizes – also have positive outlooks for full-year 2012. More than three-quarters (78%) of all distributors feel sales for 2012 will be higher than sales in 2011, with even more large companies expecting gains – in fact, 83% of distributors with more than $1 million in sales say they're forecasting revenue growth for the remainder of 2012, when compared to full-year 2011.
In contrast to previous quarters, though, small distributors (annual revenue less than $250,000) showed impressive gains in the first quarter of 2012. These firms increased their sales by 6.8% in Q1, after gains of less than 3.5% for each of the previous four quarters. Mid-size distributors (revenues between $250,000 and $1 million) increased their revenues by 6.2% in Q1 2012, and large distributors (sales more than $1 million) grew by 7.1%.
Tweet that!
Let me know how your sales are coming along this year by posting a comment or e-mailing me here. I'm also on Twitter, LinkedIn and YouTube.