Promo Products Star In Dallas
Wednesday February 1, 2012 | Filed under: ASI Shows, Media Coverage, News About ASI
We kicked off the ASI show in Dallas in a really big way, with a terrific slate of education – and national news coverage of our industry.
Steve Noviello, an Emmy Award-winning consumer reporter for the Fox affiliate in Dallas-Fort Worth, reported a series of hot product segments from the Dallas Convention Center that were aired across the country.
The segments were seen by viewers in 13 markets, reaching a total potential audience of 610,606 -- with a total publicity value for the industry of $27, 642. The reports, which ranged from 1-2 minutes, aired in Dallas, LA, Chicago, Philadelphia, DC, Atlanta, Detroit, Phoenix, Minneapolis-St. Paul, Orlando, Salem NC, Louisville KY and Gainesville, FL.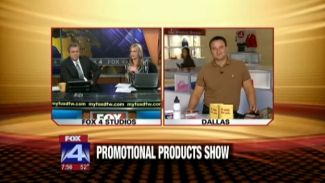 Steve discussed the power of promotional products and the strength of the industry itself while showing off some of the newest products we have to offer. He also included some election products, mentioning that the very first promotional products in the U.S. were commemorative buttons dating back to the election of George Washington in 1789 – and how much money the industry is expecting to make off the 2012 election.
Click here to view one of the segments, broadcast in Phoenix.
KDFW (also known locally as Fox 4) broadcasts more local news per week than any other station in the Dallas-Fort Worth metroplex and the most of any television station in Texas.
Steve's team was terrific to work with, joining Counselor senior writer Dave Vagnoni and ASI Show's executive director of operations, Cheryl Childers, at the Dallas convention center before sunrise to set up the segments that aired continuously across the country. Joe "The Joe Show" Haley worked hard at gathering all the products showcased during the segment and made sure everything arrived safely – and on time – in Dallas.
Thursday and Friday are exhibition days in Dallas, and Friday morning we're in for a special treat with a keynote by Twitter co-founder Biz Stone. I hope to see many of you there!
Let me know what you think of the news coverage for our industry by posting a comment or e-mailing me here. I'm also on Twitter, LinkedIn and YouTube.