Page-Turning, Award-Winning Reporting
Friday March 30, 2012 | Filed under: News About ASI
Dave Vagnoni is used to tackling challenging assignments in the course of reporting stories for Counselor magazine. But he went above and beyond the call of duty during his trip to China for his 2011 feature package, "Beyond the Great Wall" – including getting detained at the border by authorities.
His efforts paid off recently when the feature article, blogs and video package were nominated for a Jesse H. Neal National Business Journalism Award from American Business Media. The prestigious Neal awards are considered the Pulitzer Prize of business journalism.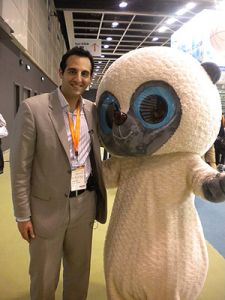 If you missed it, click here to read Dave's article and blog posts and to watch his videos.
Although Dave was the only writer to actually travel to China, it took a team of editorial designers and editors to put the entire package together. My congratulations extend to each of them.
More than 90% of the ad specialty industry's products today are manufactured in China, and suppliers don't think that will change anytime soon. At the same time, unprecedented changes in China are having a significant impact on the ad specialty industry in North America.
With so much at stake, Dave traveled to the other side of the world for an in-depth look at a nation and a people in unavoidable transition. His reports detailed all of the issues and included extensive interviews with many key industry players.
ASI's editorial department has a long history of producing distinct, award-winning stories on issues critical to this industry. For that effort in 2011 alone, ASI's magazines won a record 26 awards, including a Neal Award for Supplier Global Resource Editor Michele Bell, who was honored for her story, "Asia's Seismic Shift," detailing how labor unrest and other issues in China affect suppliers in the promotional products industry.
You can look forward to more great stories in the pages of ASI's magazines, which are also available online, in coming months.
Let me know what story you read recently that served you the most by posting a comment or e-mailing me here. I'm also on Twitter, LinkedIn and YouTube.