Media File: Big, Bigger, Best
Monday April 16, 2012 | Filed under: ASI Shows, Members, News About ASI, Using Ad Specialties
Sometimes, bigger is definitely better. Roller coasters, sales commissions, even juicy hamburgers – they're all better bigger. To that list you can add 2012 Media File, the world's largest promotional products catalog.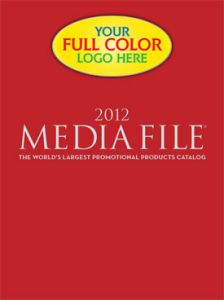 This hardcover catalog is such an essential sales tool that we've already pre-sold 65% of all available copies. This year's edition – incredibly, our 57th – contains thousands of products from hundreds of suppliers (including 49 new suppliers) in all price ranges, along with promotional planning guides and end-buyer case studies perfect to take along to your next sales call.
Price and product indexes make it easy to choose products to suit any client's budget. In addition, the 2012 Media File comes packed with ASI's End Buyer Catalog Study facts to help prove the enduring ROI of ad specialties.
But what really sets Media File apart are the products – everything from customized playing cards, colorful drinkware and cool USB flash drives to unique athletic souvenirs, awesome executive gifts, go-green items and even prize wheels, along with favorite campaign standards.
It's big, it's undeniably beautiful and it's selling fast. You can order yours online by clicking here. If you have any questions or want to discuss special offers, contact Dan Brown, ASI's executive director of distributor services, at dbrown@asicentral.com or at 800-546-1365.
And remember, selling through catalogs continues to be an effective marketing medium for distributors and suppliers. ASI studies show over 86% of active distributors declare catalogs to be important or even essential for generating sales.
As we prepare to head to the Big Apple for our New York show, I want to share one last Tim's Take video from San Diego. We shot this right after the Michael J. Fox keynote, which inspired an audience of about 500.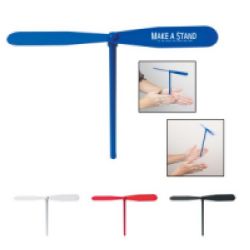 I was particularly moved by his message of hope in the face of his Parkinson's diagnosis, as my mom lived with the disease for over 35 years. If you haven't already, please check out his foundation's website and see the incredible things they've accomplished in their search for a cure. April, by the way, is Parkinson's Awareness month.
In California, I also checked out some fun products like a spinning dragonfly (at right) from Hit Promotional Products (asi/61125), colorful stress relievers from Target Line (asi/90640) and Rubik's cubes from Prime Line (asi/79530). Click here to watch.
And let me know what fun, funky ad specialty is your current favorite by posting a comment or e-mailing me here. I'm also on Twitter, LinkedIn and YouTube.