Mastering Star Power
Thursday August 16, 2012 | Filed under: Community
I recently enjoyed dinner with Bravo TV's "Top Chef" contestant Angelo Sosa, who served up great food along with some interesting lessons in the fine art of self-promotion.
I say "fine art" because anyone in the public eye, whether they're running a company or appearing on reality TV, walks a fine line between skillfully honing a persona – and shameless hawking.
I'm impressed with Sosa, who's worked alongside some of the best chefs and restaurateurs in the world, because he's a skilled businessman with two restaurants, a cookbook memoir and even a consulting group. He never misses an opportunity to promote himself or his many activities – but always does it with real panache and charm.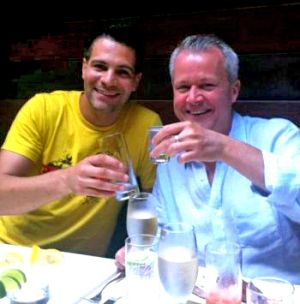 I earned dinner for two and a chance to meet the chef at Sosa's Manhattan restaurant, Social Eatz, in a silent auction to benefit Alliance for a Healthier Generation. By aligning himself and his restaurant with a charity fighting to reduce childhood obesity, Sosa helps spread the word while earning goodwill with customers like me. Once I arrived, I was happy to find the restaurant, billed as an "Asian gastropub," was casual and reasonably priced. It even featured lots of promotional items!
Sosa is Dominican-Italian but initially made a name for himself with his flair for unique, Asian-influenced recipes. We had a chance to chat during a very casual staff dinner that took place after the restaurant closed for the night. I ended up holding one waiter's baby on my lap pretty much the entire time and left really impressed with the restaurant's friendly atmosphere.
Anyone who succeeds in business must take chances and sometimes put themselves "on the line" – skills savvy promoters like Sosa have clearly mastered.
That ability to build a brand and skillfully sell yourself and your company is an asset I'm willing to bet is also shared by any number of the suppliers who responded to ASI's most recent sales report on Q2 2012. The report shows a year-over-year increase in sales among ASI® supplier members of 4.6% and is the 10th consecutive quarterly year-over-year increase in sales.
My own shameless self-promotion alert: I was recently featured in a regional magazine called Bucks Life in its "Essentials 2012" issue devoted to the best local landmarks in three counties: Bucks, PA; Hunterdon, N.J. and Mercer, N.J.
The editors asked a few locals to share things like our favorite brunch place, nature spot and even charity. I decided to participate because it gave me a chance to plug two things I love promoting: the nonprofit Arts Council of Princeton, where I just ended my third term as president of the board of trustees, and ASI.
Click here to read the story. I'm not crazy about the photo of me, but the article itself offers up some great places to check out, whether you live in the PA-NJ area or are coming for a visit.
And let me know what you think: Is all publicity good publicity? Post a comment or e-mail me here. I'm also on Twitter, LinkedIn and YouTube.