Long Beach, Here We Come
Wednesday April 4, 2012 | Filed under: ASI Shows, Members, News About ASI
We're ending the ASI Show in San Diego after three strong days with a major announcement: We're moving our West Coast show to Long Beach next year.
The move was instigated in large part by ASI suppliers and distributors who wanted a more convenient and cost-effective venue. Of the 4,313 distributors we serve on the West Coast, 61% are located in the greater Los Angeles area.
Central to three airports, the Long Beach Convention Center is easily accessible from all major thoroughfares. Lorenz Hassenstein, the new vice president and general manager of The ASI Show, did his due diligence and found attendees will be able to save $500 per person in Long Beach. Hotel rooms on average cost $50 less per night, and flights into Long Beach are 50% cheaper as compared to San Diego.
The 2013 Long Beach show will feature the same great education and exhibits you expect from an ASI show, along with a full roster of networking and special events. The show opens Saturday, March 23, 2013 – so mark your calendars.
Karen DiTomasso, vice president of sales for The ASI Show, says she expects the timing of the show – months away from other industry events taking place in the greater LA area – will result in a sellout. For more exhibition information on ASI Long Beach, visit www.asishow.com. Attendee registration will open this summer.
The San Diego show ended on a high note with a keynote speech by actor and Parkinson's activist Michael J. Fox. The standing-room-only event drew nearly 500 people who were really inspired by the remarkable personal lessons Fox shared about life with Parkinson's disease.
Calling on the old acting adage of "Don't play the result," the Family Ties and Back to the Future star urged people to live in the moment. "It's about possibilities, and making sure you don't shut those possibilities out because you're blinded by what you think the future may hold. Life changes and you have to change with it," he said.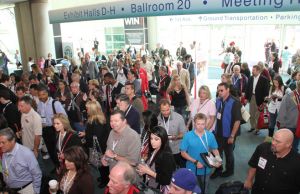 All told, the San Diego show attracted over 2,000 distributor attendees and 335 suppliers. The show earned great feedback from ASI members.
Rick Greene from HALO Branded Solutions, asi/356000: "This is just a great show. In the first four rows I walked, I found two important apparel resources that I need for a huge project. Having access to the show floor is amazing."
Glenn Hersh from Admints and Zagabor, asi/31516: "We always look forward to the ASI shows because they give us a chance to interact with distributors and discuss specific projects."
There's still more to come! The remaining two 2012 ASI shows are ASI New York (May 8-10) and ASI Chicago (July 17-19). ASI distributor and decorator members can register for free at www.asishow.com. To learn more about exhibiting or sponsorship opportunities, contact Karen at kditomasso@asicentral.com.
And please let me know what you think of the move to Long Beach by e-mailing me or leaving a comment.