Go Big Green
Wednesday March 21, 2012 | Filed under: News About ASI, Using Ad Specialties
With spring officially here and Earth Day less than a month away, it's the perfect time to think green. ASI has already sold over 60,000 copies of its eco-friendly Green Catalog, but there's still time to order yours.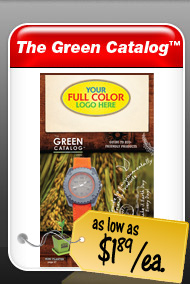 The go-to guide for environmentally friendly products – with a circulation of 125,000 – features  a ton of "didja know?" tips for being green and ways to promote eco-friendly products as a responsible alternative, along with case studies on such subjects as selling organic apparel and using technology to cut waste.
The eco-friendly items range from bamboo iPhone cases, eco-friendly "sprout" watches and Bulova watches with mercury-free batteries to recyclable can coolers, biodegradable wine glass tags, bio pens and all-natural dog products.
These are the kinds of products perfect to pitch to environmentally conscious clients at resorts, corporate events, schools, conferences and fundraisers. So arm yourself with a few facts and a copy of the Green Catalog before heading off to sales calls – in your Prius, of course (50 mpg!).
Products are grouped by easy-to-navigate categories, including bags and briefcases, clocks and watches, clothing, executive gifts, food and drink, health and beauty, incentives and recognition, office and computer accessories, outdoors, pet accessories, sports, writing instruments and travel.
The Green Catalog features:
120+ products from 30+ suppliers, in all price ranges
Free shipping (expires April 22)
Free full-color imprinting
Free digital version with a print purchase
As always, the front of each copy can be imprinted in full color with the distributor's logo and contact information, and ASI offers this feature at any time throughout the year.
For more info, contact Dan Brown, executive director of distributor services, at dbrown@asicentral.com or at 800-546-1392. To order the Green Catalog online and to see sample pages, click here.
Let me know what your best-selling green products are this year by posting a comment or e-mailing me here. I'm also on Twitter, LinkedIn and YouTube.