Get Pumped for Success
Tuesday July 17, 2012 | Filed under: ASI Shows, Education, News About ASI
Motivational speaker Tony Robbins literally rocked the house at ASI's all-day education session in Chicago on Tuesday. As one Counselor blogger put it: It was a sales rep's Super Bowl. Or, as Tony himself said: "This is not your typical biz seminar, but they're boring as sh**."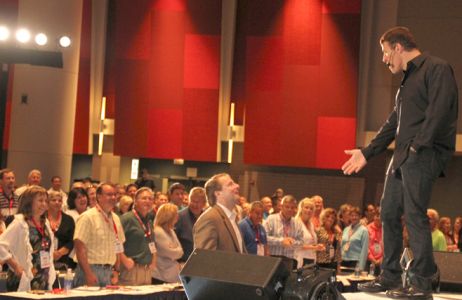 You gotta love this guy.
I don't think I've ever seen an audience so energized and so willing to jump in and do whatever it takes to tap into Robbins' energy and make it work, work, work for them to transform their lives and achieve their business goals.
I hope you followed the constant stream of tweets and blog posts from our editors, but in case you need a recap, below are some Tony tidbits and highlights. Print them out and post them where you can see them every day, to get started on your very own "celebration." One tip: Play your favorite get-pumped music really loud while reading:
Too many people make things worse than they are and make up euphemisms for their situations. Face the truth like it really is.
Be honest about your own business – and capitalize on the current economy. This is when you can steal market share and capitalize on the problems of others.
65% of Fortune 1000 companies started during a depression or recession.
Success is based on a strong mentality. Tell yourself:  I was made for this time. This is where I come out stronger than ever.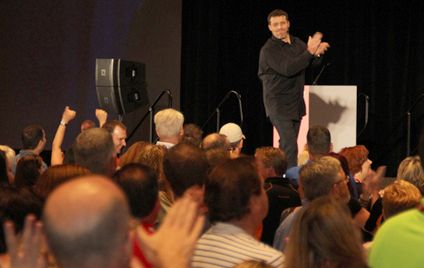 Emotions – creativity, flexibility, compassion, vision – are the ultimate resources.
Success is 80% psychology, 20% mechanics.
Decisions = destiny. If you want to change your life, you have to make new decisions.
Some people buy from you simply because they like being around you. Be happy and energized.
Energy comes from psychology, not food or sleep.
To get pumped before a big sales meeting, act like your favorite team won the Super Bowl – and change your movement by jumping, galloping, fist-pumping, etc.
You can be someone who sucks all of the energy out of the room or somebody who lifts people up by your energy. Which one do you want to be?
For more photos and to read the Counselor blogs in their entirety, click here or go to www.asicentral.com.
And if you were at the session, let me know your favorite advice by posting a comment or emailing me here. I'm also on Twitter, LinkedIn and YouTube.