Fight Like a Girl
Tuesday October 23, 2012 | Filed under: Community, Using Ad Specialties
Every October, in honor of Breast Cancer Awareness Month, thousands of dedicated people come together to walk or run for the cure. Unfortunately, nearly everyone has been touched in some way by the disease, which can strike both men and women.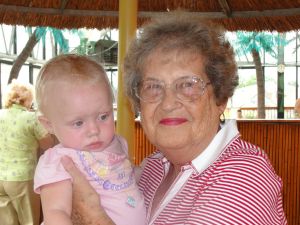 Every October, I always think back to 1973, when I was in 6th grade. One of my favorite aunts had Stage 4 breast cancer – only we didn't know it because back then it was a medical problem that people whispered about but didn't name. All I knew was that it was serious and something bad might happen.
My aunt – Lenora Hull, now 80 and still living outside my hometown of Hope, Indiana – underwent a radical mastectomy 39 years ago today, followed by cobalt radiation. I spoke to her this week and she recalled how, for many, breast cancer was treated like a secret. Rather than say she'd lost a breast, one neighborhood parent said she'd lost a leg!
Luckily, Aunt Lenora (pictured here) survived. Although treated for metastatic cancer in the lung in 2001, she is now cancer-free and feisty as ever, keeping in touch with family on Facebook and on Skype. As she told me this week, "God has certainly blessed me. You kids were all still in school and I thought I might never see you as adults. But I did and I am very proud of all of you."
For 15 years, she was chairperson of a Reach to Recovery program at the local hospital, giving back by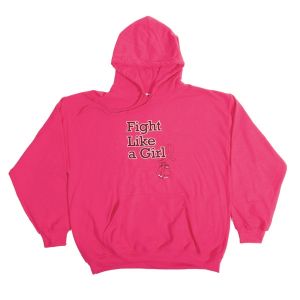 helping other women through exercise demonstrations and a wig bank and by showing them firsthand there can be much life and activity after diagnosis and successful treatment. Her granddaughter, Kate, gave her thanks through involvement with one of the many Susan G. Komen Race for the Cure events held throughout the U.S. every October.
"It's just part of life and we just have to go on," Aunt Lenora told me, sharing very wise words indeed.
In our industry, pink is also the color – and promotion is the point. Everyone who carries, waves or wears pink apparel and ribbon-imprinted accessories at events helps spread the word about breast cancer while raising much-needed funds for research and education. The goody bags given away by fundraising organizers often contain branded items participants can use during runs and walks, like umbrellas in case of rain, bottled water or pedometers.
Click here for a press release ASI issued this month on ways the industry is helping to fight for the cause.
And let me know how this disease has touched your life by posting a comment or e-mailing me here. I'm also on Twitter, LinkedIn and YouTube.