Election Business is Booming
Tuesday September 4, 2012 | Filed under: Members, Research, Using Ad Specialties
With the presidential candidates locked in a virtual dead heat, it's obvious our industry will continue to play a key role in helping the candidates market themselves to voters. Pardon the pun, but at each political convention, we're seeing promo products left and right.
Counselor® reporters are continuing their convention coverage in Charlotte this week, providing boots-on-the-ground observations of the products being worn, banged and waved by Democrats.  Click here for pics of what they've seen so far.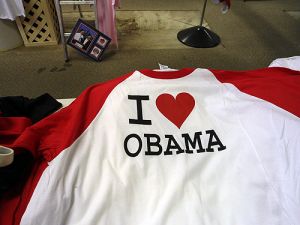 As Chicago supplier Rich Carollo, whose family owns Lion Circle (asi/67620), told our ASI Radio audience Tuesday, this election is all about visibility. So when the cameras scan the convention center, keep an eye out for Lion Circle's "bang a banner" – basically a sign that makes noise – which is bound to be a hit.
While standards like yard signs, bumper stickers and pins continue to be the biggest sellers, there's no end to the creativity on display this election year. Last week in Tampa, Republicans showed off everything from "Got Mitt?" T-shirts to Obama punching bags.
To see more pics of some of the zanier sights from the RNC as captured by Counselor cameras, click here.
The election is big business and with two months to go, there's still time to get in on the action. According to ASI®'s research, an estimated $870 million will be spent on election-related ad specialties – including $350 million on the federal election alone – by the time it's all over.
Local and state elections are great opportunities for distributors who might have a tougher time making the "big time" connections for national purchases.  The man or woman running for Congress might like to buy from a local distributor and your neighbor might even be running for city council or school board.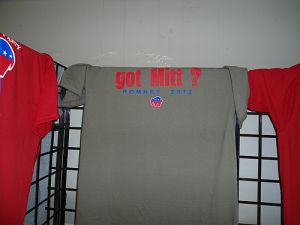 In Florida last week, our reporters didn't see any branded pens or tote bags, which means the RNC missed a chance to provide low cost, high ROI products that everyone could have used during the convention (as well as once they got home) as constant, valuable reminders to support their candidate.
And as Rich suggested, don't forget to call on all the special interest groups out there who are trying just as hard as politicians to get out their messages.
Earlier this year, we also conducted a survey to analyze the effects of advertising specialties on voter opinions. The study's purpose was to understand how promo products influence voters, what kinds of products are preferred and if there are differences in the perceptions of promotional products based upon political affiliation.
For a press release on the results, click here. You might be able to use a stat or two during your next campaign office sales call.
What election-related products are you selling – and who's buying? Let me know by posting a comment or e-mailing me here. I'm also on Twitter, LinkedIn and YouTube.