Calling All Droids
Thursday May 31, 2012 | Filed under: Industry Initiatives, News About ASI, Using Ad Specialties
Hard to believe, but three short years ago there were only about 2,300 apps available in the Android market. Today, there are over half a million – with 15 billion downloads to date.
This week, ASI® entered the arena, offering ESP Mobile™ for Android free from Google Play to more than 46,000 ESP® users.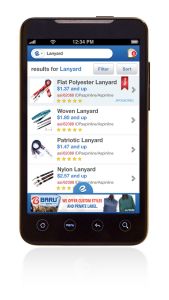 ESP Mobile for Android is integrated with ASI's ESP Web™, where distributors can source and order every ad specialty product in the industry from more than 3,200 suppliers via their Android app, which provides the same business-friendly features as the ESP Mobile iPhone and iPad apps. Now, you can view the latest pricing, see razor-sharp images, check out supplier ratings, request quotes and e-mail clients products on the go, 24/7.
Personally, I'm an iPhone user. My favorite apps – other than ESP Mobile, of course – include OpenTable for restaurant ideas and reservations, which I've been using since its 2004 debut on the Web. Today, because of my frequent use for business and pleasure, I'm a designated VIP with 32,200 points, earning 100 points each time I make and complete a reservation.
As a frequent flyer, I'm also a big user of the merged United-Continental app, which lets me check where I want to go, where I'm going and where I've been. And no business day is ever complete without my WSJ app – a direct link to my personal newspaper of record.
I'm devoted to these apps because they're fast, reliable and user-friendly – providing the same critical qualities as ASI's ESP Mobile apps.
ESP Mobile is currently available for both iPhone and iPad in the Apple App Store. Search for "ESP Mobile +" for iPhone and "ESP Mobile HD" for iPad. For all ASI mobile applications, including our magazines, search for "Advertising Specialty Institute" in the Apple App store.
(Shameless plug: ESP Mobile for Android is only available to authorized distributors of promotional products who are ESP subscribers. To purchase ESP, call your ASI account executive at 1 (800) 546-1350. And if you have any questions, ASI's product and technical support team will be happy to help at support@asicentral.com).
If you're using ASI's ESP Mobile apps, please let me know how they're helping your business by posting a comment or e-mailing me here. I'm also on Twitter, LinkedIn and YouTube.