ASI's Norman Cohn in The Wall Street Journal
Tuesday June 26, 2012 | Filed under: Community, Media Coverage, Members, News About ASI
Tuesday's front page of The Wall Street Journal – which reaches a global audience of over 2 million – features a profile of ASI® Chairman Norman Cohn.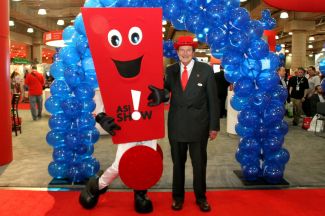 I encourage you to share the story with clients, friends and family via Twitter, Facebook, LinkedIn, etc., using this link: http://webreprints.djreprints.com/45722.html.
This story is part of a multi-year public relations and educational outreach effort ASI has made on behalf of the industry to reinforce the undeniable ROI of ad specialties and the power and reach of a vital industry that employs over 400,000 people across North America. Click here for recent examples of more stories in Bloomberg Businessweek, the Washington Post and Christian Science Monitor and on Fox News.
Norman – who is in his 50th year of leading ASI – is a one-of-a-kind leader: competitive but not a bully, smart but approachable, strong but kind. He absolutely loves the industry he has nurtured since he was 19.
While researching The Wall Street Journal story, the reporter spoke with a number of industry people, including Peter Geiger of Geiger (asi/202900), Bob Stevens of Footprints USA (asi/55030), Barry Hermanson of Aunt Beth's Cookie Keepers (asi/37465) and Paul Bellantone of PPAI. I'd like to thank them and everyone else who participated.
I think the piece is incredibly positive and, along with all the other coverage we've generated, presents enduring evidence of the brand-building business tools at the heart of our industry. I couldn't be prouder.
Let me know what you think of the story by e-mailing me here.