ASI's Latest App is a Tap Away
Tuesday April 3, 2012 | Filed under: News About ASI, Using Ad Specialties
ASI has exciting news: ESP Mobile™ HD for the iPad is now available free in the Apple App Store to more than 46,000 ESP users.
ESP Mobile HD features the same business-friendly features as the iPhone app, allowing users to view the latest pricing, see razor-sharp images, check out supplier ratings, request a quote and e-mail clients products on the go.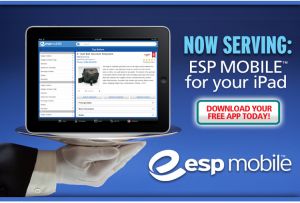 With its larger display screen, ESP Mobile HD has been optimized to showcase more product information to make finding product details easier than ever, and includes featured product videos. 
This is yet another key technological leap forward for the industry, and we're happy to share it with you today. And for all you Android users out there, don't worry – the Android app is on its way.
To download ESP Mobile HD:
1. Visit the Apple App Store from your device.
2. Search for ESP Mobile HD and click to download for free.
3. Tap the app to launch and enter your user name and password for ESP Web.
ESP Mobile HD is integrated with ASI's ESP Web, where distributors can source and order every promotional product in the industry from more than 3,500 suppliers.
ESP Mobile is already breaking records and gathering superior reviews. For instance,  more than half of ESP Mobile users have logged in between 2-5 times/day since downloading the app. Together, ESP Mobile, ESP Web and ESP Online perform over 100,000 searches daily.
Remember: Licenses to access ESP Mobile HD are only available to authorized distributors of promotional products. To get a license to ESP Mobile HD, call ASI at 1-800-546-1350. If you have questions, contact Liz Kennedy, ASI's director of product and technical support, at support@asicentral.com.
And please let me know what you think of the new app by posting a comment or e-mailing me.