ASI Releases Landmark Research Study
Wednesday November 14, 2012 | Filed under: News About ASI, Research, Using Ad Specialties
This week, ASI® released the Global Advertising Specialties Impressions Study V.3, which contains the most powerful data available to convince clients of the cost-effectiveness of promotional products.
Unveiled at the 2012 ASI Power Summit in Naples, Florida, this definitive research study shows customers, prospects and end-buyers how promotional products can increase sales and brand exposure.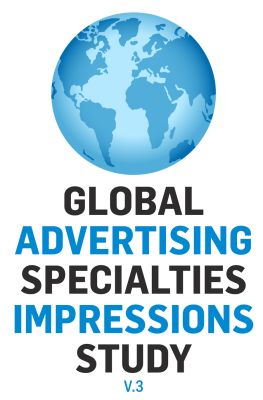 I encourage you to circulate this study as widely as possible, and to visit a specially-designed Web page on asicentral.com for a downloadable PDF, convincing graphics specific to each and every highlight, and a video. Each chart can be seen in full-screen format – and comes with a "recommend" button to share via social networks. Just click here to access these valuable tools. And to Tweet about the results, use this link: http://bit.ly/SHWqEQ.
For the study, conducted from July through September of 2012, ASI's ace research team hit the streets and interviewed consumers in 12 North American and European cities. The results show promotional products are consistently popular and persistent, with most people owning about 10 items they generally keep for nearly six months, a far longer time period than any other form of advertising.
In addition, the study shows promotional products give consumers a more favorable impression of advertisers in every international city surveyed and deliver commanding advertiser recall among 87% of all recipients – up four percentage points over 2010.
The study – ASI's third since 2008 – clearly shows that with a cost per impression at about half a penny, promo products offer the best value when compared to local TV or radio, at a fraction of the production cost.
The V.3 study includes demographic information broken down by political affiliation, ethnicity, gender, age and income, since knowing the likely recipient of products is paramount for an advertiser. This year, the comprehensive report includes even more global markets and additional products, such as USBs.
Armed with all of this data, distributors can target an audience and confidently recommend the best, most effective products and ideas to clients.
Other highlights from the study include:
Worldwide Wow. Over one-half (52%) of the time, products give consumers a more favorable impression of the advertiser, a trend seen in every country surveyed.
Generating New Business. One-third of U.S. consumers say they are more likely to do business with an advertiser after getting their logoed product.
Latino Market Magnet. At 54%, Latino consumers own the most promotional T-shirts.
Mais Oui. Parisians are far more likely to own promotional USB drives than consumers in other cities, with 27% owning them, versus 9% of U.S. consumers.
Safe, Healthy Cities. In Dallas and Montreal, 11% of consumers own promotional health and safety items, versus the U.S. average of 8%.
Top 3 Products. Writing instruments (50%), shirts (43%) and bags (29%) were the most popular products by category in the U.S.
Superior Pass-Along Value. Sixty-six percent of U.S. respondents give away unwanted items to someone else, up 15 percentage points from 2008.
Bags are Big. In the U.S., 29% of consumers who own promo products own a promotional bag, with Asian consumers owning the most of any racial demographic.
Cap-Tastic. White men are the most likely demographic group to own branded caps, versus 15% of African Americans and 12% of women.
Cheers. Gen-Xers and older own more promotional drinkware than those under 35. Of 12 cities surveyed, Philadelphians love logoed mugs and glasses the most, with 21% of Philly consumers owning promotional drinkware.
You Wear it Well. Higher wage earners are more likely to own a promotional jacket.
It's now up to you to read the study in its entirety, download the graphics that will help you on your sales calls, and spread the word about the power of promotional products every chance you get.
Please let me know how you plan to use this study in your business by posting a comment or e-mailing me here. I'm also on Twitter, LinkedIn and YouTube.