ASI Raises the Bar with ESP Websites
Monday May 21, 2012 | Filed under: News About ASI, Using Ad Specialties
ASI is in the business of providing solutions that directly benefit members, which makes today's launch of ESP Websites as good as it gets.

During countless focus groups, we listened to what members had to say and delivered a product that met all their needs, from social media and videos all the way to virtual-ready samples. I think it's clear no one else in the industry can match the accuracy, power and shopping sophistication of ESP Websites.
Best of all, LogoMall customers can upgrade to an ESP Website for free, plus receive a free ESP Website to brand for a best customer.
Built for sales and gunning for leads, the new ESP Websites™ couldn't be easier or faster. With one-click ease, distributors get hundreds of templates to choose from and instant access to the latest online tools and features needed to quickly create a distinct, custom-designed website.
Most important, all sites are e-commerce enabled, allowing members to accept credit cards and customers to make down payments to secure orders.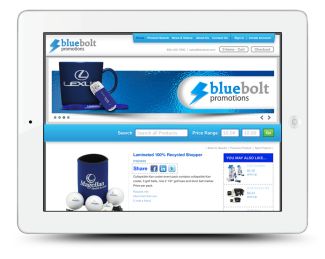 The built-in features of every ESP Website include:
Product of the Day and Featured Product Sets: Give shoppers endless ideas.
Social Media: Share products directly on Facebook, Twitter and LinkedIn.
Videos: Product videos demonstrate how promotional products work and look.
Adobe-Powered Virtual Samples: Shoppers can automatically see their logo on more than 100,000 products.
Promotional News: End-buyer tailored information automatically pushed to all sites.
Dozens of ASI employees dedicated themselves to perfecting ESP Websites. From concept to launch, it took nearly a year – with 15,000 hours alone devoted to development.

During development, we kept the conversations rolling, asking numerous distributors to take ESP Websites for a test drive. The execs at Top 40 distributor Brown & Bigelow were so impressed the company is now offering it to their top performing salespeople. Here's what William D. Smith, Jr., the company's executive vice president, had to say:

"We're excited ASI has created a state-of-the-art solution that provides our salespeople with a professional, functional and personal web presence. The functionality addresses the needs of tech savvy clients and sales people, with social media links, virtual sample creation, artwork transfers, shopping cart and payment processing. From a corporate perspective, we appreciate that one administrator can easily update editorial content and merchandise on all of the sites, eliminating the need for each salesperson to focus on these tasks. This is an amazing solution we're proud to offer our team."

As a stamp of approval goes, it doesn't get much better than that.

To upgrade, visit www.asicentral.com/ESPwebsites or call ASI support at 1 (800) 546-1350. New ESP Website customers are eligible to receive a free ESP Website to brand for a best customer. Contact your ASI account executive at 1 (800) 546-1350 or visit www.asicentral.com/ESPwebsites.

Let me know what you think of ESP Websites by posting a comment, and if you have any questions, please e-mail me here. I'm also on Twitter, LinkedIn and YouTube.