After Sandy: An ASI Industry Update
Thursday November 1, 2012 | Filed under: Community, News About ASI
It's now been a few days, but the East Coast and beyond remains in a state of crisis after Hurricane Sandy hit.
Please keep in mind as you attempt to reach customers and colleagues that millions remain without power and many towns remain flooded.  Gasoline is becoming a scarce commodity and not being able to travel is looming as a real possibility.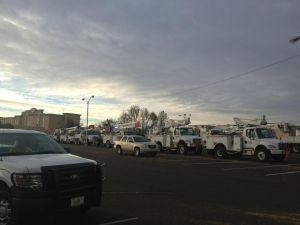 So far, the hurricane is responsible for at least 133 deaths in the Caribbean, the U.S. and Canada. As news reports continue to come in, it's clear we will feel the effects of Sandy for months, even years, to come.
Like more than two million households in New Jersey, my home in Princeton lost power.  Here, I've posted a couple of photos, taken standing at the end of my driveway looking left and right.  The trees are bigger in person!  Luckily, I have a generator (purchased after Hurricane Irene dumped three feet of water into my basement last year) so I opened my doors to friends in need of a dry, safe place to stay.
Two of my new temporary housemates live in Hoboken, N.J., a city of 50,000 people across the Hudson River from Manhattan.  Hoboken has been devastated by flooding and the National Guard recently swept through to evacuate many residents in need.  I can't imagine what it's like in New York City at nightfall with the lights still out in so many areas.   Friends live in a building with 11 feet of water in the basement.  And, as of Wednesday, about 90% of Long Island remained without power.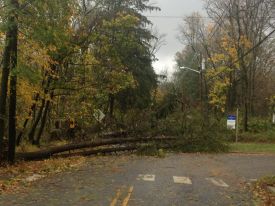 Communities are starting to get help, and everyone appears to be working together to help their neighbors. President Obama was in New Jersey, touring the inundated Jersey Shore with Gov. Chris Christie, a Republican.   It was refreshing to see our elected officials putting aside politics in favor of the citizenry.
If you haven't yet seen this National Guard footage, shot from the air over Seaside Heights, N.J., one of the hardest-hit shore towns, click here. It really puts things in perspective. An 82-year-old resident of Sea Bright, N.J., said in an interview he's never seen anything like the destruction wrought by Hurricane Sandy – and he's witnessed the very worst of the big storms over the years.
If you want to help those affected, one of the best things you can do right now is text REDCROSS to 90999 to donate $10 to American Red Cross Disaster Relief. They will buy and distribute the supplies needed most.
As I wrote in an e-mail to members, ASI® is here to help our members.
If your business is affected in any way, we can help spread the word. Please e-mail closures, service disruptions or power outages to feedback@asicentral.com or post it to ASI's Facebook page. We're posting continuous updates to ASI Central's home page and will tweet your status as well. For further industry news updates, follow Counselor® PromoGram.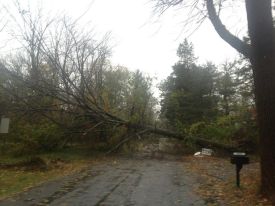 Throughout the storm, all ASI products and services were secure, safe and actively monitored. The company – located outside Philadelphia – officially closed Monday and Tuesday, but we are now back in business. However, about half of our staff remains out of the office, dealing with storm-related issues. ASI is continually returning voice and e-mail messages, but please be patient if you're trying to reach someone – and turn to asicentral.com for answers to basic questions.
In our complex we're proud to be loaning our parking lot to many of the out-of-state utility crews working to restore power.  Their big trucks are here overnight, while the drivers and repair crews are staying at a hotel next door.  The pic at top is from a recent prep rodeo.
Please let me know how you, your community and your business is faring by posting a comment or e-mailing me here.