A Record-Breaking Show In Dallas
Friday February 3, 2012 | Filed under: ASI Shows, Members, News About ASI
They make everything big in Dallas – hats, steaks, hair and especially trade shows. We just ended our three-day event in Texas and set a new all-time record for distributor companies with 1,556.
Dallas had it all – 837 distributors enjoying classes Wednesday, including the industry's biggest speed networking event,  and a keynote Friday by Twitter co-founder Biz Stone, who shared humorous comparisons between Twitter's beginnings and the networking relationships  built between industry suppliers and distributors.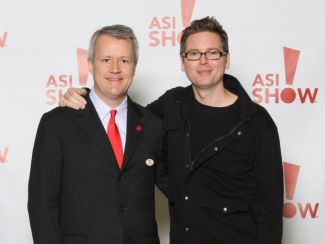 Stone was as laid-back as a highly-successful tech dude could be. He spoke in a series of stories, about everything from the founding of his mega-successful company to a German film that helped fuel his reach-for-the-stars philosophy. In the end, everyone in the audience was left with inspiring advice they can apply to their own business to boost their success rate.
"The only real way to succeed is to just jump off the cliff," said Stone, pictured with me here at the meet and greet. "You really have to go for it; you can't hedge."
The three-day show itself drew a ton of raves, including ones from Missy Herring, of South Texas Custom Printing, asi/529109, who called it "tremendous," and another from Sergio Munoz, of Debco, asi/48885, who said:  "ASI Dallas has been just great for us – amazing traffic and a great quality of attendees. Distributors are asking questions and coming prepared with projects they need help with. We've been getting great leads, and it's been a very productive show."
Last night we let loose at our very first gala at the Dallas House of Blues, where they celebrate America's best musical art form with a giant dose of good ole fun. We'll definitely be back.
If you missed us in Dallas, check out photos and videos on www.asicentral.com. If you were at the show, let me know what you thought by posting a comment or e-mailing me here. I'm also on Twitter, LinkedIn and YouTube.
And don't forget to register at www.asishow.com for upcoming ASI Shows in San Diego (April 2-4), New York (May 8-10) and Chicago (July 17-19). To learn more about exhibiting or sponsorship opportunities for 2012, contact Karen DiTomasso, vice president of sales, at kditomasso@asicentral.com.