50 In Argentinah!
Friday February 10, 2012 | Filed under: Community, Using Ad Specialties
It's an old adage but one I firmly believe in: Practice what you preach. I'm as bullish on this industry and its products as possible, which is why I chose so many cool items to commemorate a once-in-a-lifetime trip to Argentina to celebrate my 50th birthday.
Something else I believe in is taking a long walk in somebody else's shoes. The experience of choosing and ordering a full slate of promotional items from start to finish was kind of like stepping into an episode of the reality show "Undercover Boss." What I learned is being a distributor is really hard work.

To start, I had ASI's top-notch creative director Jim Lang create two logos based on his idea, incorporating "50" and "Argentinah" in a nod to a gorgeous country. In one, we also used a map of Argentina, which stretches from Bolivia to the tip of South America, encompassing a wide array of geography and climates along the way.
As gifts for the friends accompanying me on the two-week trip, I branded everything from socks, T-shirts and fleeces to bandanas, flip-flops and keychains. There is even a combo iPad screen and keyboard cleaner, as well as a personalized travel diary. Getting really creative – as you certainly can in this industry – I also had M&Ms and playing cards for use during the 12-hour flight actually imprinted with the faces of my friends.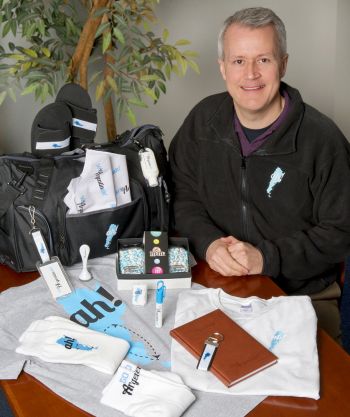 In the logoed travel bags I'm gifting, I included useful items like hand sanitizer, lip balm, sunscreen and bags of pistachios. There's really no end to what you can choose from when it comes to promotional products!
My actual 50th birthday is February 13 – a birthday I share with my late mother. I decided on this trip months ago and planned it with zeal. Since I'm the master of detail, I deliberated down to the hour, choosing every destination, hotel, restaurant and even wine.
The best birthday gift I could possibly imagine is the gift of friendship, and what better way to celebrate the half-century mark than with my best friends in the land of Jorge Luis Borges, world-famous steaks, Evita Perón and Tierra del Fuego?
Logistically, it's been a challenge, since I'm coordinating travel plans with nine friends scattered across the country, friends whose professions cover the gauntlet – with the personalities to match. Now that the trip is here, I almost can't believe it's finally happening.
We're spending the first week in Mendoza, which is like the Napa Valley of Argentina. In between taking in lots of sights and horseback riding like gauchos, we'll drink lots of fine Malbec wines. A highlight is sure to be seeing Patagonia's glacier-carved landscapes up close.
Luckily, Argentina's seasons are reverse to ours, so we'll visit during their summer. The second week we'll relax our pace somewhat and enjoy the best cosmopolitan Buenos Aires has to offer, including shopping, cooking lessons, visits to a silversmith and art galleries and, of course, dancing the tango and meeting porteños.
As the gauchos say, disfrute compadre. In other words, we will enjoy and, above all, have fun!