2011 Industry Sales Top $18.5 Billion
Friday January 27, 2012 | Filed under: News About ASI, Research
The numbers are in, and the results couldn't be much better. ASI's 2011 distributor sales research report shows total industry sales of $18.5 billion, up 6.2% from 2010.
Sales have increased for eight straight quarters, with a 6.5% 2011 fourth-quarter sales increase reported – the highest since the first quarter of 2011.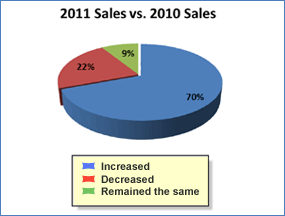 What this proves is that the industry rebound begun two years ago is real – and lasting. A majority of distributors feel optimistic about 2012 sales, which is another indication of continued growth.
The bottom line is that companies, charities, schools, hospitals, teams – you name it and there's a logo on it – are continuing to buy ad specialties for a very simple, undeniable reason: they work.
Highlights of the survey, conducted by ASI's executive director of research, Larry Basinait, include:
Eighty-five percent of larger distributors (over $1 million in revenue) reported an increase in sales in 2011, while over two-thirds (70%) of all distributors reported an increase.
Over one-half (54%) of all distributors reported an increase in the fourth quarter, with distributorships of at least $250,000 in annual revenue reporting greater percentage increases in sales than small distributorships.
More than three-quarters (77%) of all distributors feel sales for 2012 will be higher than sales in 2011.
To read the report, click here.

ASI commissioned the exclusive survey to estimate industry sales for 2011. The industry outlook for 2012 was also included in the study. Invitations went to ASI distributor members who were the primary contact with their firms, and had been in business at least one year.

One thing we can't do is become complacent. We need to keep the economic ball rolling throughout 2012 – and beyond. So let me know what you're planning to do this year to keep your numbers up, or tell me what worked best for you in 2011, by posting a comment or e-mailing me here. I'm also on Twitter, LinkedIn and YouTube.