Time to Read, Write and Sell
Thursday June 16, 2011 | Filed under: News About ASI
Kids across the nation are singing "No more pencils/No more books/No more teacher's dirty looks" as they exit school for summer. While I wish I could join them at the mall or in the pool, instead I'm thinking about upcoming fall promotions while flipping through our 2011 schools edition of the Idea Showcase catalog.
 We've already sold 200,000 copies of the pocket-size catalog, which comes with a money-saving coupon section and slides perfectly into a No. 10 envelope. Whether you're looking for a reliable standard like a pen or stress ball or something far out like rally hair or glowing ice cubes, Idea Showcase offers plenty of campaign ideas.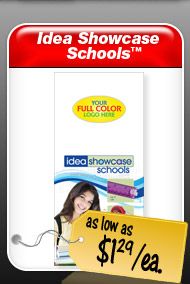 Features include:
390+ products between $1-$40
50+ suppliers
Products perfect for elementary and high schools, colleges and universities, after-school programs, youth clubs and sports teams
Two covers to choose from: standard and schools
In addition, each copy of Idea Showcase can be imprinted with a distributor's full-color logo and contact information on the cover any time throughout the year.

To order Idea Showcase online or to see sample pages, click here.  For more information, contact Dan Brown, executive director of distributor services, at dbrown@asicentral.com or at 800-546-1350.  Distributors receive free shipping on orders placed by July 15.

Now if I can just get Alice Cooper's classic June anthem "School's Out for Summer" out of my head, I'll head back to work.

 Let me know what you're planning for summer by posting a comment or emailing me here. I'm also on Twitter, LinkedIn and YouTube.