The Gift of Education
Monday October 17, 2011 | Filed under: Members
Back in the '80s, I got tickets to Dr. Ruth's talk show and had a blast listening to the sex expert once described as "a cross between Henry Kissinger and Minnie Mouse" tackle questions.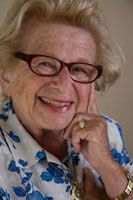 More than 20 years later, I found myself sharing a table with Dr. Ruth Westheimer at a fundraiser for a NJ-based organization called Answer. The world-renowned psychotherapist was the event's keynote speaker, and I can assure you Dr. Ruth is still answering important questions with her trademark wit and intelligence.
I was delighted not only with the speech, but also with the cool keychain Dr. Ruth handed out, which featured her photo and logo, and with the beautiful gift bag Answer gave everyone in the audience. It was packed with great promotional items like a coffee cup, pen, pad, mints and mouse pad.
The ASI distributor who put the gift bags together was Overture Premiums & Promotions (asi/288473), of Vernon Hills, IL, chosen one of Counselor magazine's "Best Places to Work" in 2011.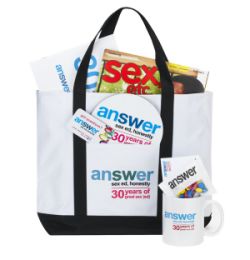 The occasion was Answer's 30-year anniversary, dubbed "Keeping It Up: 30 Years of Great Sex (Ed)." And although the folks at Answer clearly have a sense of humor, more importantly, they have a clear and critical mission: to reach nearly 5 million teens and more than 6,000 educators every year.
At the breakfast, I learned a lot about what's working – and what's not working – in sex ed today. And the fact is there aren't many places kids can go to get age-appropriate answers to their questions.
But they – and their parents – do have Answer, a component of Rutgers University with a National Advisory Board boasting an impressive list of members. The organization offers parents tons of resources, including a list of reviewed and recommended books and websites to help them educate their children about sexual health and growing up.
So if you haven't had "the talk" yet and need some guidance, I urge you to check out Answer's website. I learned a lot and hopefully you will, too.