Stitches Named Magazine of the Year
Tuesday August 9, 2011 | Filed under: Guest Blog, News About ASI
Last week, I was back in the Windy City for the second time in two weeks (ASI Chicago was indeed just two short weeks ago) with ASI Editor-in-Chief Melinda Ligos to attend the American Society of Business Publication Editors' (ASBPE) conference and awards ceremony.
The ASBPE honored Stitches magazine with its top "Magazine of the Year" award in its 33rd annual Azbee Awards of Excellence competition. In addition, Stitches won five national awards, including "Best Feature Article" for our November 2010 Stitches Golden Needle Awards coverage, "Best Feature Series" for "Mentor of the Month," "Best Original Research" for our annual May State of the Industry survey by ASI Executive Director of Research Larry Basinait, and "Best Regular Department" for "Look Book." The ASBPE honored ASI publications with a total of nine national and 11 regional awards of excellence for writing, editing, research, design and photography. In the pic below mine, Melinda shows off one of editorial's many awards.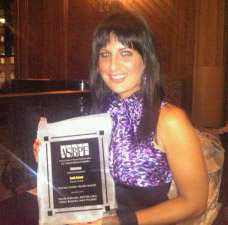 When I was a graduate student at Penn State studying creative writing, I had the great opportunity to teach undergraduate writing classes. I'd walk from my apartment on Hamilton Street three times a week toward the main campus going over my lesson plan in my head (the pithiness of Gwendolyn Brooks' poetry or artfulness of Mark Doty's memoir). I loved the nervous tension of these walks, thinking about whether I could get my students excited about writing. My head is still always wrapped up in the beauty of words and the art of communication, and to have Stitches recognized with these awards was truly an honor.
For the Magazine of the Year Award, ASBPE's judges told us that Stitches stood out from the competition with strong writing, understanding of its target audience and intriguing design. In particular, they said Stitches is "brightly written and designed" and "easy to read and aesthetically pleasing," showing "a real engagement in the industry you don't always see."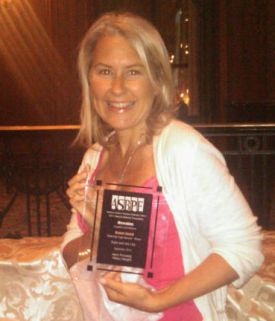 In Chicago, not too far from the brand-new Marilyn Monroe statue with her iconic white dress flying up, I had the opportunity to stand in a lecture hall in the University of Chicago's Gleacher Center, presenting to other B-to-B magazine editors at ASBPE what it is we've done over the last five years to revitalize Stitches.
I talked about our complete magazine redesign in 2009; our commitment to hard-hitting content (we recently spent the day in Montana Women's Prison's embroidery shop to learn whether it was a great rehab device or a way for outside shops to exploit cheap labor); the way we've built a community for readers (we're on Twitter, @asi_stitches; and Facebook, www.facebook.com/stitchesmag; we have a social site; www.stitchesmagsocialsite.com); and our must-read yearly issues (May's State of the Industry and November's Golden Needle Awards coverage).
After my presentation, I talked with other editors about what it's like to be able to do what we love every day and be so close to the written word, but also create these bright vehicles and communities to serve our industries. For me, this Magazine of the Year award was thrilling and humbling, because, really, in the magazine world, you can never sit still – it's always about moving forward.
-- Stitches Editor and ASI Director of Education  Nicole Rollender