Sell Laughs, Close Deals
Tuesday February 22, 2011 | Filed under: ASI Shows, News About ASI
Want to close more sales? Take a tip from improv extraordinaire Wayne Brady. He advised our ASI Radio audience the best way to close a sale is to turn potential clients into fans with a little bravado and touch of humor.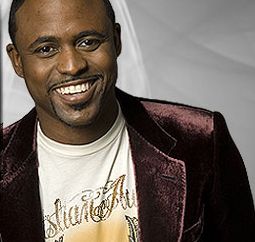 "What we do on stage is sell the audience on our comedy," Brady told listeners Tuesday during an interview to advance his upcoming performance at the ASI trade show in San Diego, Thursday, May 19. Click here to register for tickets to his exclusive West Coast performance.
"For salespeople, the best thing is to have fun," Brady said. "If you're very stiff and uncommunicative you'll never get anywhere. Make a fan and make a sale."
To listen to the interview in its entirety, click here.
If you're planning on attending his show in San Diego, get your best improv ideas ready. And plan to have a great time. Brady promises to deliver.
Here are edited excerpts from the Wayne Brady interview:
Q: How do you prepare for big shows? Do you have any rituals?
A: I show up and I'm ready to roll. Improv is not something you can sit in your room and practice. It's just a skill. I do deal with pre-show nerves. Even after 20 some years in the business I still get butterflies. But as soon as I step on stage, I'm great.
Q: Who inspired you in comedy or performance?
A: I'm not a stand-up guy. I'm sketch comedy. I like "Saturday Night Live," the old Carol Burnett show. The early variety show performers could do it all. They were a triple threat. People like Carol Burnett, Danny Kaye, Bill Cosby. My mom didn't allow me to watch much TV—usually it was PBS or the old Carol Burnett shows in black-and-white. Now I realize that was my early education.
Q: What's on your iPod?
A: Jazmine Sullivan, the Grammy's Best New Artist Esperanza Spalding, Colbie Caillat and an old-school hip-hop compilation from 1986-89, when it was about partying and not getting capped in the ass.
Q: How did you put your own stamp on the game show "Let's Make A Deal?"
A: I didn't want to be a typical game show host. I looked at it as a role, a challenge. I wanted it to be fun so I figured I'd just do what I do. This version has a lot of improv in it, a lot of characters who interact with the audience. We have songs. It's more like the big Spanish variety shows.
Q: When did you realize you wanted to be a comedian?
A: At 16, I fell into it at school. I was in the ROTC program for two years and my family was military and I figured that's what I'm going to do. One day I filled in for a buddy in drama class. I had one line. It was amazing. All the kids were making each other laugh and something in me responded. It was that fast. Two weeks later I was doing my first play. Later, I was doing TV, movies, jingles, cruise ships. I never did comedy on TV before "Whose Line is it Anyway?" I was spotted in a comedy club and it changed my life.
Q: How do you deal with curve balls thrown from the audience?
A: There's really not such a thing as a suggestion that's too tough. But some are just stupid and I can't do anything with it, like "Hey, do a song about my" – insert word about his junk. No, dude.
Q: What's your favorite promotional product?
A: The best one was a car. I got use of a car for six months – a Cadillac SUV. The downside was I spent a bajillion dollars on gas. "Let's Make a Deal" is getting ready to do a bunch of stuff. Wayne Brady jeans, Wayne Brady doors for your house.
If you heard the show, let me know what you thought by posting a comment or emailing me here. I'm also on Twitter, LinkedIn and YouTube.