Sales Surge Continues
Thursday March 3, 2011 | Filed under: Industry Initiatives, News About ASI, Research
While no one is uncorking the champagne quite yet, economic indicators point to recent consumer spending surges nationwide as a sure sign we're heading in the right direction. If I was a betting man, I'd put big money down on our industry, as ASI is now projecting 11.2% growth in 2011.
ASI's 4th quarter report and 2010 year-end analysis of distributor sales show distributors are very optimistic about 2011, particularly the largest distributors. Three-quarters (75%) of all distributors feel sales for 2011 will be higher than sales in 2010, while nearly eight in 10 larger distributors feel sales will be higher.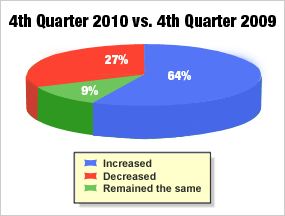 Gregg Taft, owner of BNoticed of San Diego, California, is even more optimistic.
Gregg predicts his company sales will increase by 25%-35% in 2011. He says just as his clients are investing more in promotional advertising to take advantage of the upturn, his company is likewise investing more in new processes, technology and marketing tools.
So as reinvigorated clients reinvest in their brand, companies like BNoticed are more than ready to deliver the tailored promotional product solutions they need.
As we've reported, total industry sales for 2010 were $17.4 billion, up 9.1% from 2009. And the year ended with a bang -- over one-half (52%) of distributors reported an increase in the fourth quarter.
We get our figures through exclusive surveys of distributor members who are the primary contact with firms that have been in business at least one year. Those surveyed include 53 of the largest players in the industry. Click here for complete survey results.
What's happening in your neck of the woods? Let me know by posting a comment or emailing me here. I'm also on Twitter, LinkedIn and YouTube.