Play a Winning Sales Game
Friday June 10, 2011 | Filed under: ASI Shows, News About ASI
As the NFL players' lockout drags on amid wrangling over $9 billion in annual revenue, I got to thinking about some of the greatest moments in football history. The once-in-a-lifetime gridiron dramas, like Franco Harris' game-winning "Immaculate Reception" and Tom Dempsey's 63-yard field goal, help me recall the glory in a truly glorious game.
Another ace moment: Iron Mike Ditka's final touchdown in the Dallas Cowboys' 24-3 win over the Miami Dolphins in Super Bowl VI. Lucky for us, Ditka – one of the only people ever to have won a Super Bowl as a player, assistant coach and head coach – will be our keynote speaker at the ASI Chicago show Thursday, July 21.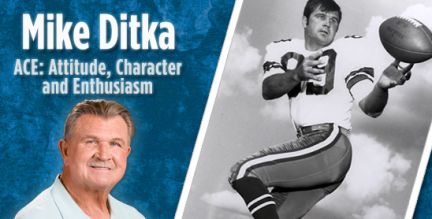 While I can't wait to hear what he has to say about the lockout, I'm also anxious to get his views on a cause dear to his heart: aiding retired players suffering physical and financial problems. 
As he pointed out during a recent talk in Michigan, a lot of players left the game hurting in more ways than one. In Ditka's first year with the Chicago Bears, when he was named Rookie of the Year, he made only $12,000. Compare that to what players take home today and you can see why some of the old-timers need help with their end game.
In his speech at the Chicago show, Ditka will highlight the key characteristics people need to fully achieve their personal and business goals. Early admission tickets are still available, but the meet and greet is sold out. Click here for more info and to register for early admission. The keynote itself, as always, is free.
Ditka's talk, touted as one of the best in all of the NFL, is sure to be inspirational, funny and chock-full of great football moments. Even if you're not a football fan, the lessons you'll learn from one of the greatest American success stories – and son of a steel-mine worker – will certainly help you improve your sales game.
So please join us for what's certain to be a highlight of show season.
And let me know how you think the lockout will end by posting a comment or emailing me here. I'm also on Twitter, LinkedIn and YouTube.