Pick a Product and Grow Sales
Wednesday April 20, 2011 | Filed under: News About ASI, Using Ad Specialties
If Guinness World Records had a category for largest promotional products catalog, ASI would surely have a winner in the 2011 Media File.
The 56th annual edition clocks in at 287 pages and is packed with thousands of products from hundreds of suppliers in all price ranges – including 51 new suppliers. It's got a bit to go before it can compete with the world's largest book, a 346-page tome that weighs about as much as a Mack truck, but we're on our way.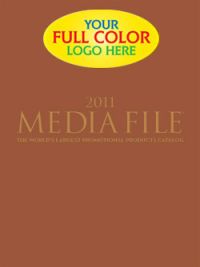 Media File is so popular, we've already pre-sold 75% of all available copies. But there's still time to order yours. To order online and to see sample pages, click here.  For more info, contact Dan Brown, executive director of distributor services, at dbrown@asicentral.com or at 800-546-1392.  
This year, as an added bonus, we've added promotional planning guides and end-buyer case studies that support our catalog research studies, which say over 86% of active distributors think catalogs to be important or even essential for generating sales.
The hardcover book contains every product you can imagine, including eco-friendly items and a special wearables section. Our easy-reference calendar makes creating campaigns a snap and you'll love the price and product indexes since they make it easy to choose products to suit any client's budget. 
Media File is the one book to include in your sales arsenal. Display it proudly in your showroom and hand it out to your most favored clients. As for me, now that it's finally spring, I'm going to get started on breaking the world record for largest tomato plant. I've only got to grow one bigger than the one that covered 610 feet at Disney's Epcot Center.
If you think I can do it, let me know by posting a comment or emailing me here. I'm also on Twitter, LinkedIn and YouTube.