On The Road – Again
Monday May 16, 2011 | Filed under: ASI Shows, News About ASI
If there's a frequent flyer king, I'm betting its Nick DiNicola, the general manager of the Advantages Roadshow.  Over the years,  the Willie Nelson of roadshow warriors has easily logged more than a half million miles criss-crossing the U.S. and Canada with the industry's best-attended traveling show.
This year, the roadshow's 12-week schedule took Nick from Vancouver to Ft. Lauderdale, San Diego to Montreal, and nearly 70 cities in between. By the tour's end last week, more than 6,000 distributors had attended a show, making vital contacts sure to pay off in new orders.
Now, Nick's on a much-deserved break from the road, but it won't last too long. The ASI Holiday Preview Tour rolls into Los Angeles, Toronto, Atlanta and Philadelphia this fall.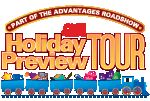 The show features leading ad specialty suppliers showcasing their seasonal products in a tabletop setting, along with free hot-topic education focused on ways to boost your revenue along with valuable networking.
I know it's tough to think about the holidays when you've yet to throw your first BBQ, but registering for the holiday preview tour is a surefire way to guarantee those all-important holiday sales.
To exhibit, suppliers can call their ASI Show sales rep at 800-546-3300 or contact Nick directly at ndinicola@asicentral.com.
Speaking of BBQs, what summer products are on your radar? Let me know by posting a comment or emailing me here. I'm also on Twitter, LinkedIn and YouTube.