O Canada: Buyer's Guide Now Available
Thursday February 10, 2011 | Filed under: News About ASI, Using Ad Specialties
Every year, ASI's The Professional Buyer's Guide sells out – for good reason. It helps increase sales. For 2011, distributors are loving full-color imprinting and 120 pages of product ideas.
This year, pre-sales for the go-to catalog for the Canadian marketplace are even stronger. Guaranteed circulation is 50,000, and we've already received pre-orders totaling nearly 39,000 copies.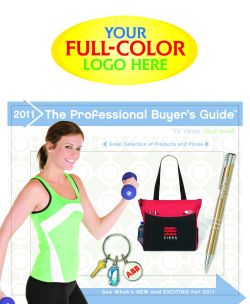 I thoroughly enjoy my visits to Canada, a great nation that offers everything from the cool jazz of Montreal to the glorious vistas of the Canadian Rockies. And who doesn't tear up when hearing their moving national anthem, "O Canada"?
ASI Canada is in the very capable hands of VP Fred Oesen and Jay Ostrow, our executive director of distributor services. For more info on ASI Canada, check out the website here.
 The Professional Buyer's Guide is elegant-looking and features select products from elite suppliers in all categories across all price ranges. Whether you want antibacterial products, auto accessories and awards or watches, whistles and wine accessories, this catalog has it all.
The catalog features numerous Canadian-made products, from apparel to custom wooden boxes, and an exclusive selection of environmentally friendly "green" goods. There's even quick-response-code technology for smartphones to deliver additional info and specials.
With exclusive full-color imprinting, The Professional Buyer's Guide can now include the distributor's color logo and contact information on the cover any time throughout the year, which means distributors can create a personalized marketing approach to differentiate themselves from their competition, build strong brand awareness and create a more professional image for clients.
Why should distributors include catalogs in their marketing mix? It's simple: Research shows they remain a proven advertising vehicle. According to a recent study of end-buyers, paper catalogs drive 93% of purchasing decisions. It's hard to argue with stats like those.
To see sample pages or order online, click here. For more information, contact Dan Brown, executive director of distributor services, at dbrown@asicentral.comor at 800-546-1350. Distributors receive free shipping on orders placed by Monday, February 14.
Let me know how catalogs have helped you increase sales by posting a comment or emailing me here. I'm also on Twitter, LinkedIn and YouTube.